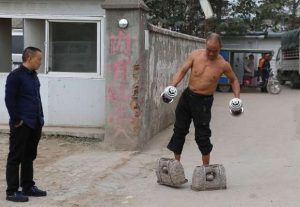 Workout gear is important, but doesn't necessarily have to be fashionable or stylish. When you workout, you need clothing that allows you to move comfortably, but also provides support where you need support. It should be layered, so as you warm up and start to sweat, you can remove a layer to remain your most comfortable. Spending an exorbitant amount of money on most of the clothing is unnecessary, except for one item. You should have good shoes that provide support and be made for more than looks. They should be made for action.
Layering allows you to keep your muscles warm until you get warm.
In the chillier months, coming to the gym in shorts isn't always a good decision. That's where layering helps. You can wear a short sleeve or sleeveless top under a lightweight hoodie or jacket that will keep you warm until your arrival and warm-up ends. Sweat pants over shorts is also a good idea at that time. As you warm up and the sweat starts to roll, take your clothing down to the shorts and top. Make sure both have fabric next to your skin that draws the sweat away from your body, so you don't feel cold and clammy afterward or hot and sweaty in the summer.
Match your workout gear to your workout.
In most cases, you'll be working in the gym, where shorts, sports bra and t-shirt or singlet for women works well and shorts and t-shirt is appropriate for men. If you decide to take your workout outside, you need to dress for the weather. Anyone that runs knows sometimes Mother Nature doesn't cooperate, so having emergency rain gear you can carry in your pocket may be a lifesaver and keep you warmer during a winter, spring or fall shower. Of course, again the right type of shoes are important.
Make sure you get quality shoes.
Your feet often take a real pounding during a workout, so having the best possible footwear can be important. In fact, it is far more important than having high fashion workout clothing. There are so many types of shoes from which to choose, unless you have oodles of money and buy them all, you'll probably have to choose one or two pairs that fit your needs best. Cross training shoes or a comfortable running shoe works in most cases. The heavier you are, the more you'll appreciate plenty of cushioning.
Since workout clothing is acceptable wear many places outside of a gym. Focus your attention to comfortable clothing inside the gym and save those dazzling outfits for another place to show off your new gorgeous body.
Sweat bands and wrist bands can be as important as other workout gear. You'll appreciate the head sweat band, especially when you have a tough workout that makes the sweat pour out of you.
If you need a boost of confidence, by all means, get new workout gear. Sometimes, that little boost can make a difference, even if it's not a necessity.
You'll see people dressed in all types of workout gear at a gym and not worrying about what others think of their attire. That's because the reason to go to the gym is for the workout and focusing all their attention to it is what they do while they're there. Most people seldom notice what others wear as long as it's not too outrageous.