The 28 Day FAT BURN starts Jan 6th! It's a team challenge utilizing a comprehensive meal-replacement and coaching system I use to create the many Before and Afters you see on my facebook paage! WARNING: I do NOT Coach "diets"…this is a challenge for team players who want to create substantial, life long changes in their health and follow a PROVEN results producing system. It's a points system based off of following the Habits of Health! You can earn points of nutrition, sleep, reading, calling your coach, exercise and much more! The team and persons earning the most points will be elligible for many prizes including the most incredible prize of all…. TAKING YOUR HEALTH TO THE NEXT LEVEL!!! This challenge is available to current clients and new clients! We just need to talk about your goals, choose a path and say "YES…Let's GO."
Watch this video to learn more!
[youtube]https://www.youtube.com/watch?v=ZuOTnVOMeg4[/youtube]
[youtube]http://youtu.be/ZuOTnVOMeg4[/youtube]
[youtube]http://youtu.be/ZuOTnVOMeg4[/youtube]
---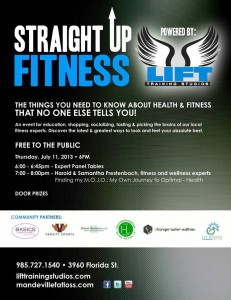 Come and spend an evening with us July 11th 6-8pm. Food, fun, music and a whole lot of fitness!
Click the link here to join!
https://www.facebook.com/events/209395129214019/
---
[youtube]http://www.youtube.com/watch?v=6xG4oC_Pt0Q&list=UUJZihtHRaLk18r_dGsdo5Tw&index=1&feature=plcp[/youtube]
So…here we go again! Since getting more structure to my running program, my lifting program suffered for 2 weeks (and also adjusting to holidays). I don't know about you, but if I just take one week off from Lift'ing, I find it very difficult to muster up the motivation to do an intense lifting session. Here's how I talk myself into it…
I know for a fact through practicing on myself and training others that HIIT (high intensity training intervals) and circuits are the most efficient forms of fat loss, sculpting, and muscle building. It effectively controls insulin & cortisol levels that may go awry when lifting intensely for long durations. Well, that suits me just fine because that means I'm going to be done in 30 minutes or less with my workout!
This workout was done in 15 minutes (that's with transitions) and I felt every minute of it. Let your muscles do the talking and forget conventional methods of working out. If 10 minutes is all the time you have or all the time you have motivation for..then it's plenty enough time.
Hugs & Health,
Sam Prestenbach
Fat Loss Specialist & Certified Health Coach
---
[youtube]http://www.youtube.com/watch?v=tRv-Qk5lZx4&list=UUJZihtHRaLk18r_dGsdo5Tw&index=1&feature=plcp[/youtube]
This will be one of my shorter blog posts, lol…only because my long winded self is exhausted and couldn't say it any better than this video can. With the help of my friends, my passion for fitness, wellness, and it's ability to change people's lives in a major way was put together in this video as a powerful message that's bound to stir up some kind of inspiration! After all, that's my main goal in life…to continue to find inspiration and spread it to others!
Hugs & Health,
Sam  Prestenbach
Fat Loss Specialist & Health Coach
---
Ok, I'm going to admit….I nearly missed my Tuesday workout again. A long day of coaching calls, then an unusual trip to my kids school for "share fest" and before I knew it the clock said it was 7:30 p.m. and I was ready for bed already! As I walked into my bathroom for a nice bath, that rock hit my stomach….guilt! Uh, I hate that feeling. My threshold for guilt and regret is at a minimum these days. If there's something I can do about it, you can bet, I'm not going to bed with any negativity on my brain.
I looked down at my 15 lb dumbells which I leave sitting in my bathroom. I started my bath water and then walked over to them and quickly snatched them up before I could hesitate. Right into a squat press I went and for 10 reps (seems to be my favorite range of reps) and then into tricep extensions for 10 reps. I looked back at the water and thought, "Uh, I'm tired". But, instead of just quitting and saying, "This is silly", I kept going knowing that last little rush of endorphins for the day was really what I needed. So, to keep it short and sweet, I simply said when the tub if full, I'll be done. Fortunately, (or unfortunately, depends on how you're feeling) my tub is pretty large and I ended up getting in 5 rounds plus 2 sets of push-ups.
I have to admit. I felt pretty weak. I've been challenging myself in another way other than just weights recently. Working with a running coach, Rachel, has been very interesting. I've never had my own personal trainer, but this is very closely related. Monday marked my third workout with her and I say "workout" because we don't just go out and run and frolick on the lakefront. Instead, she pulls out a folder in which she clearly has organized as, "Sam's stuff" (lol) and pulls out my calendar that is marked with all my runs for the month. Each run has a goal with my harder building runs being set on Mondays so she can push me through.
Having always been the person, as my clients would say, "who has to do all the thinking" in regards to training usuallly…This has been a refreshing change! Even when it came to my running in the past, I would either 1) blindly pull up some generic training program online or 2) just go for any distance or speed of a run on whatever whim I felt for the day….often leading to aches and pains I could've avoided had I had Rachel's expertise.
When I met her Monday, I wanted to document our training together better so I wore a GoPro on my head. "You're having a hard time taking me seriously with this thing on…aren't you" I jokingly asked her. She just laughed politely, but I'm sure she thinks I'm crazy! We ended up doing 1 mile with it on and then I had to ditch it for our workout part of the run. (I'll have that video for you next week)
"Alt Miles" she says…My eyebrow raises and a noise comes from me much like Scooby Do…"Uhhh" She uses a formula to predict the proper paces for me. It's much too involved for me to understand at this point, but that doesn't matter because Rachel knows exactly what she's doing and, honestly, like my clients, I don't want to have to understand it right now…I just want to be in the moment.
We get started on our run, she sets her GPS ans says, "Ok, after this stop sign, we go.." and we did. Amazingly, I'm able to talk somewhat. I know I shouldn't. I know she wants me to shut up. But, it's just so nice having someone to talk to on a run. I've always considered myself more of a loner when it comes to working out, but this has proved to be something missing in my fitness.
Without my music playing, I have lots of doubts in my brain but I just keep thinking, " I can do it, I can do it, I can do it" and before you know it I've, "I can do it'ed" to the end. But, I have more than just my mind pushing me through, Rachel is at my side the whole way. She constantly gives me positive affirmations, she's always telling me where I'm at, how much further I need to go, if I need to push harder, or (usually in my case) if I'm pushing too hard. "Back it down" she says and, quite honestly, I'm always relieved to hear that.
Monday, we had one last hard push at the end. I won't lie, I struggled a bit and wondered…"do I really want to beat my old PR at the Rock N Roll?" But, she wouldn't let me stop if I had even tried! Finally, it's not just me "having more faith in my clients than they do themselves" but I've found someone who has more faith in my abilities than I do right now and, let me tell you, It's an INCREDIBLE feeling. 
We finished the workout and she gave me the run down of the results….She was ecstatic! And, I'm glad she was because I was too busy catching my breath. She bounced and said, "That was Awesome Sam!"….high fived me and gave me a hug. I knew she really meant it too.
As we cooled down with one lap towards the lakefront and back, we chit-chatted and I had recovered. That same feeling came over me as I climbed into my car….My chest was open, It felt like there was no limit to amount of oxygen I could take in, and I just felt incredible…Free. Yes, there was a little pain and struggle, but the end result was freedom.
"It's the obstacles you overcame that make you feel as you succeeded!"
Here you are…let go of the fear and doubt and embrace change like I did…the end result will be something refreshing in your life that you can be very proud of! The next day, I texted her to thank her for being a great coach, as my clients always text me and told her… "tell Ryan(managing partner at Varsity Sports) I didn't puke either!" It's a nice feeling to see you're physically getting stronger and fitter each week! This little push is just what I needed to take it to the next level. I feel faster, fitter, and leaner than last week. You can't ask for much more than that can you!?
Hugs & Health, Sam Prestenbach Fat Loss Specialist & Certified Health Coach
---
"But they don't understand. I have two small children. I have a husband. I have to clean. I have to work." I told my coach one day when he was having a heart-to-heart with me. He was trying to tell me what my husband needed of me and what would be needed of me to grow in the areas of my life I had been telling him I wanted to grow for over 2 years.
My husband says…"you have a coaching call today." Me? What am I going to talk about…where do I need help? After all, isn't it everyone else who needs helping? Ah…I look back on this day and I can clearly remember standing in my quiet kitchen just after lunch. Harold was not at home. Sabella was at school. Mila was napping. "But, but, but…" was definitely the beginning of the conversation. All I could see was the obstacles. All I could see were the things that I let get in my way of doing the things I really needed to do to get the things I wanted. Notice I said, "I let get in my way".
After an hour on the phone, my coach finally told me, "It can be done. There are other moms who do it all the time". I instantly became a little mad, frustrated even! Is he suggesting that I'm getting in my own way?! Is he suggesting that I am letting these obstacles be "THE" obstacle that keeps me from succeeding?
The answer…Yes. This was over a year ago and I have to say it was a humbling moment for me in which I started to assume almost 100% responsibility for the my life. I say almost because I am work in progress. At that point, I realized that my reasons "why" were also my reasons "why not".
What do I mean? Well, I said I wanted to be fit for my girls, for my husband and to feel good about myself yet I said I couldn't work out regularly because I had to take care of the girls, cook dinner for my husband or because I was too tired. What it turned out to be that I was blaming everyone but myself.
It's so difficult to accept that you have failed, but that it does not mean you are a failure. Sometimes, it's easier to stay in denial even than admit that you have not done right or as good as you could. I cannot even count the numbers of times I said to myself that I was fat ( I hate even using that word because it's just over used & mean) or more commonly thought I looked disgusting and then of course I would chase my self pity with chocolate, worrying about something someone else did or said or who knew. But, that denial, pointing the finger at others, will only keep you hitting a wall for years, sometimes sadly a life span. What's really sad is we'll run ourselves into that damn wall a million times before we realize that if only I open my eyes, I would have seen there were a perfectly good door there.
Well, I found my door about 10 years ago, but every time I stepped through a new door, temporarily I'd get something in my eyes and run into the wall again. Then, I'd stop sulking and own up to my faults. My most humbling moment was when my marriage was struggling. There seemed to be little hope other than the fact we loved each other. The day I truly woke up was the day I said, "What if…What if I'm the one who needs to change." Same thing goes for health issues I struggled with years ago. It took me taking off the blinders to realize I was shoveling a request for bad health into my mouth on a daily basis. The day I said, "No more. I have control." was the day I won back my life.
Recently my coach said something else very profound. "You say it's a priority yet you do not do it prior to other things." I say working out is a priority yet I keep skipping workouts to get on a phone call or send emails. Therefore, working out, though it may be very important to me, is not getting treated as a priority because I did not make it set in my schedule.
It all boils down to just being real with yourself.
I have two wonderful children. I have a wonderful husband. I want to take care of them and that is a priority and I treat it as one daily.
I also am a working mom. I value my clients and my work. It fulfills me daily. It is a priority and I treat it as one daily.
I also am a fitness buff! It's changed my life. I made excuses often, valid excuses, but I used them often. That was until I found that all three could fit simultaneously.
As I said in my "Lift N Lunch" blog, I found a schedule that works! It was not without trial and tribulation, but it was worth it. Here I am, however missing my second Tuesday workout in a row because I'm overwhelmed with work, but I allowed it to happen. It's a lesson worthy of learning from too because I don't feel like a failure because I failed to workout today. Instead I look at what I did accomplish. I had a wonderful meeting that will allow me to increase awareness of healthy eating to our community…Score!
I will get in a great run tomorrow. Score!
A great payoff actually came for me, emotionally that is, about a month ago at the Heart Of Fashion Event.
A month prior to the event, I had bought a dress I had been eye-balling yet doubted I could wear because I had struggled with that little mummy tummy thing. When the day came, I slid on that tiny dress and I felt incredible!
Not only did I feel I had accomplished my physical goals but I realized no one else had to suffer or sit on the side lines for me to do it.
My family had been cared for and my work was thriving. I had pushed through the walls. I challenged my self limiting beliefs and I stopped blaming anything else or anyone else but myself. For, I had found, if I really wanted it as bad as I said I wanted…No one could hold me back but me!
For all of our clients and followers, bare this in mind, Any time you assume more responsibility, there's going to be a shift in your energy and time. Initially, things become very difficult to balance. You will struggle to make everything fit in. You will want to give up on yourself because it will make it easier to please others. Only, with time passing, you will become unhappy and unhealthy and then the ones you love aren't truly happy either. For me, it wasn't enough to be able to just out nutrition my inconsistent workouts. I was lean & healthy, but I needed strength and
endurance to really feel my best. Since starting my little experiment, I've had new life breathed into me. It's quite infectious too.
Stop holding yourself back. Watch out World…Life is looking pretty good! Enjoy the video below…it documents my journey up to last week : )
[youtube]http://www.youtube.com/watch?v=CIzEaDk86eI[/youtube]
Hugs & Health,
Sam Prestenbach
Fat Loss Specialist and Certified Health Coach
---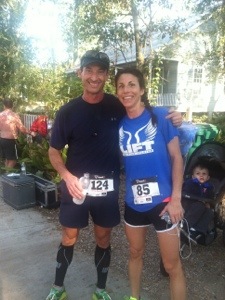 Today was the annual Keeping Up With the Jones 5k! Always a fun race. In the past four years, I've been blessed to see it grow to be quite an event! As for the Jones themselves, they're incredible people. Sweet, genuine, smart, and fun people to be around, Paul and Melissa are a positive team bringing energy to everything they do.
This may be why I'm so fond of this race. After re-connecting with my inner athlete and and the delicate balancing act that is life…I found so much peace in my training I wanted to infect others within my reach to shoot higher.
Its obvious, many of my clients already lift weights regularly. For my coaching clients whom work with me via phone & email on nutrition, they may not be exercising at all yet. There is something missing. No, not just cardio, but the hope to aspire for more. The hope that "your" body and "your" mind can fight the odds. The hope that you can define what "athlete" means to your body and in your life.
Yes, I know, you're thinking,"Ok, Sam, you're not just getting deep here, you're digging deep."
But, it's true. Failure in itself should be defined by the lack of belief in one'es self. So, after my 10 weeks of training myself back to incredible, I decided that I was going to try to convince others to believe.Keeping in mind, many of our clients don't run, have never run or run very little. I knew it would be smart & safe to start with a 5k, or 3.1 miles, in which anyone could walk even at a slow pace.
This was the perfect event for this new challenge. Fun, Friendly, non-intimidating but competitive if you want it to be so.
Since I had been doing more training than Harold and since I had enlisted the advice of Mrs. Rachel Evjn Booth, we decided he would be Mr. Mom and push the girls.
I do believe, Harold has always been Mr. Mom for this race! (Ok, next year honey)
Although Courtney and I and the team busted our booties recruiting and motivating others to join us, I was not actually sure just who was showing up!
Right before the 1 mile started, I saw our group pleasantly pull together! We had a showing of 18 people between team members & clients!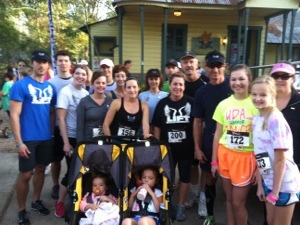 Yay! We're going to change some lives today!" I thought…and erase some fear & doubt.
Sabella ran the 1 mile, as best as a 4 year old could. She did intervals. She would run to the stop sign, STOP, whine a little while walking, Run RUN Run, STOP, piggy back Ride, Run Run Run, STOP, daddy carries and runs with her safely cradled in his arms and then he sets her down so she can make her glorious mad dash to he finish.
As the one mile fun run ended, it was time to pull our team together for the 5k! There was a hint of anxiety and a pinch of panic in the air but mostly just excitement! It was so neat to see many clients show up who had never done a race of any sort or it had been a very long time since. Instead of running away, they all pulled tight into a well knit group. We chose "pace leaders", many of our first timers were walking. Tim, headed up the walkers. Rachel, Tim's girlfriend, and Courtney walked & jogged and then we had our 9-10 min/mile group and then the 9 min/mile or below group. Mostly, this was to offer a sense of  "togetherness" at the beginning, because it's often the beginning that is the scariest part.
Although I was initially planning on being a pace leader and pushing the girls, my coach, Rachel, advised me to use this as a benchmark run for the rest of my training. I was a little nervous about this. The Gulf Coast Half was a great race for me. I figured I could do a 5k faster than a 8:30 pace, but maybe not my PR of 21:50? I had only ran 3 times since the half that was on October 14…in this case, what would be doable?
Blah…who needs "doable" when you got grit! I decided to shoot for slightly slower than my PR. I aimed for a 22:00, but honestly I would've been happy with anything under 25:00 minutes. I clung to T's side yet again. "T, I don't think I have it in me today." He nudged me off as if to suggest I was just being silly, but, I really wasn't sure.
Music on, check! Runmeter app on, check! Go! Tristan was off…faster than a speeding bullet (nothing like a little superman analogy). My Runmeter lady popped in my ear, "6:50 min/mile" and you know what she meant, "SLOW DOWN STUPID". I fell back behind Tristan until I got to a more comfortable pace, 7:30.
As we made our way to the lakefront on this beautiful morning (another reason why I LOVE the Jones 5K, it's always awesome weather), you know how my mind wonders. I recalled the first year I ran the Keeping Up With The Jones 5k and I had actually won overall female! Thinking back now, I would give full credit to this race for solidifying my love for running. I had never won anything for anything athletic other than cheer leading before. The only medals or trophies that decorated my room were State Science Fair medals and a "Most Spirit" trophy. I knew I would not take first this race, but I wondered, would I have a chance of even ranking? As we turned onto the Lakefront, I felt pretty good. I seemed to be in the first wave of runners, even if I was dead last for the fastest it still felt good to be anywhere close to them!
Then, I looked down and thanks to my dad always telling me to "Look down where you walk", my whole life (I grew up in the country. Snakes always ended up under my foot), I managed to not so gracefully leap over a snake! I can't tell you how many times I've been on a run, looked down at a twig and thought it was a snake only for it to be just a twig. But, this time the twig was a snake! It was not alive though. Wonder if it got trampled by those cheetah like runners? Anyway, I thought that this little snake was going to get the last laugh. If only I could have a camera set up to catch images of all the panic stricken runners leaping high into the air. Harold said he got to see a good bit of it.
When I made the loop directly on the lakefront, I was so happy to see Harold and my babies and Melissa Paretti and Jessie Wolz turning the curb too. I was waving and hooting and hollering and then I remembered…"Oh, you're supposed to be racing silly." Rachel clearly told me to "make it hurt" and I'm sure waving is not part of that scenario. Even at this point, running a 7:15-7:30 pace, waving was no longer an option. I started feeling the pain. It's a little funny because, here you go again…Every race has it's own story, here I was pushing myself as hard as I could and I told my clients, "don't push too hard, just come see what it's all about".
I forget what I was thinking most the rest of the race until my insanely poor sense of direction got the best of me once we turned off the lakefront. I gave it another hard push, because I thought I soon would be finished, only to realize that I had another mile left. Where was that voice when I needed it? I guess I tuned her out at the wrong time. I had to dig really deep for this race and when the end was in sight, I found a little extra in the tank to pull out a 22:40! Needless to say, I was pleased. Tristan had done a 21:50! We both took 2nd in our age groups.
I was so happy to be finished but happier to wave and cheer in all of my friends!
In the midst of recovering from my hard push during the race, I realized I unfortunately missed several of our team members coming through the finish : ( There were so many incredible finishers. All of them, regardless of the time it took to cross the finish line, all closed their race with enthusiasm and a sense of accomplishments! What's most impressive is that everyone was impressed with themselves! Even people who thought they would just walk, ended up jogging a little. People who thought, they could barely jog, ran. People who thought they would finish in 27 minutes ended up do it in 25 minutes.
And, Talk about "Super Dads"! There was my hubby with his double jogger, Garrett rocking the Jeep stroller, and Dustin pushing Boston for a stroller PR…I tell ya', it's enough to make a girl go all googly eyed! There were all kinds of super dads out there that day. Of course Tristan, but we also had Todd Reeves and 2 beautiful girls who ran the race with him. Brett did the 3.1 (super fast) and then did another 3.1 to finish a long run. Jeff who also came, ran, made a PR and then ran back to his family!
At the end of the race, the air was filled with a lot of this, " I can't believe I did…" fill in the blank. I think many of us couldn't believe they had a good time. Monday morning the studio was filled with a different level of excitement. It was very intriguing and somewhat familiar feeling. As I talked to Julie, she was just overflowing with pride. The day before the race what I heard from her was a lot of "I don't know…" and then Monday she knew she could and what's more is I think there's no doubt in her mind that there's more to come for her.
All it takes is one little thing, one little event to build your confidence and to show you the possibilities of your body. Erase your doubt. Just because you've never experienced success or lasting transformation doesn't mean it doesn't exist for you.
[youtube]http://www.youtube.com/watch?v=c7GxiRaY0nM[/youtube]
Here's to uncovering your inspiration and your internal motivation!
Hugs & Health,
Sam Prestenbach
Fat Loss Specialist & Certified Health Coach
Congratulations to the whole team: Cecily, Kathy, Beverly, Doug, Julie, Allison & her daughter (plus friend), Courtney, Rachel, Tim, Tristan, Jessie, Tracey, Garrett, Landen, Kennedy, Amy, Jeff, Todd, Sarah, Emma, Melissa, Naz, Brett, Joy and of course Me,Harold and our two princesses!
---
In case I haven't made it clear yet, "I LOVE Food"! I love to cook, I love to eat, I love that food brings people together and I love that food in it's right quantities and qualities enhances and preserves Life!
What I don't love about food? I don't like it's addictive qualities or the wrong quanities or quality can breed disease and a whole other host of issues.
Want me to get super technical, then I've told you before…I'm not your gal. I can give you my reading list and sources of education I use, but, as you can tell from my blogging style…I'm more of a live and learn type of girl.
What I can tell you is I've lived two, maybe 2.5,  different lives. I've had two different types of eating disorders. I've had body dysmorphia. I've been a binger. I've knocked out 3 hostess cupcakes in one sitting polished off with a box of wheat thins. I used to eat chimichangas, Big Macs (yes I would eat the whole thing, plus fries, plus a coke), and I've been extremely sedentary. All this paired with depression, fibromyalgia, and a real nasty disposition on life not realizing it was a product of my own self-destruction.
I've also been the, "I'll work it off tomorrow" person often punishing myself with an hour or more of cardio or lifting after devouring 2 poptarts or whatever else poor excuse for food I couldn't help but eat. At some point I had an awakening, while exercise and bouts of not eating much at all got me a low weight of 104lbs, that the life I was leading was not sustainable and only encouraging me  to fall back into the shoes of the past.
I knew my food had to change and rapidly. At the time, I figured the best way to fight my addiction was to sign up for a figure competition. Surely, the deadline of standing on stage in front of hundreds of unknown faces in a teeny-tiny rhinestone bikini would help me fight the urges to self-sabotage. Having terrible insecurities about my body and horrific stage fright fit for a novel, I was willing to try anything to start my road to incredible.
It was such a complete flip for me. I loved eating cinnamon rolls and bagels and cream cheese for breakfast. I probably stop breathing without chocolate or a stack of pancakes every Sunday. The thought of eating egg whites…Yuck! I had to eat lots of protein…Blah! I couldn't skip meals and then gorge out on loads of refined processed carbs…Ugh!
I held much solice in the fact I could eat oatmeal. Ok, I liked oatmeal. Then, I figured I also liked chicken. I preferred it fried, but hey I could do chicken breast too. I could do protein shakes. I loved peanut butter (that was ok for the bodybuilding world then and still is for some. Skip it if you don't want to bloat.). So, everything else I would have to learn to stomach.
I had no idea what I was in for. A trainer by the name of Rob, helped me out and gave me some insider info. My first 7 weeks of being on his eating plan and training regimen, I felt great! I was so focused and determined. I would say I was near perfection. But, of course, there were splurge meals every week. My first splurge meal, and many after that was pizza (3 slices usually) and a stack of pancakes the next morning. I was lifting 6-7 days a week, doing 30-40 mins cardio 4-5 days a week. I looked incredible and at that point the best I had ever looked in my life.
Then came Katrina. 3 weeks of evacuation during a devastation on your home will do things to you. The first of those things is it will drive you to drink. I was young, no kids, just married and feeling the hottest I had been in my life…what one drink going to hurt (or 2,3, 4…). After a week of that, I soon found myself suggesting cake and pizza and then eating left over cake for breakfast. In just 2 weeks time, I was well on my way to wrecking 7 weeks of work. By the time we got home, I was up 5 lbs.
I re-assessed and decided to take the advice of others, I needed to add muscle. Many people said, "Just eat". Well, you don't say that to someone like me who is in food re-hab. What do you think I did? I ate! And I was loving it until I got on the scale and saw my svelte 107 lbs went to 128lbs.
I was miserable. There were two extremes. The previous summer, you couldn't get me out of a bikini because I felt so good about my body to the following summer you could not get me to walk outside in anything less than jeans and a long sleeve shirt. My self-esteem was so low. I felt so gross. I thought I would be thrilled to get back on a cutting diet, but the bulking phase only exaggerated my urges to eat bad food. It was much harder the second time around.
I found myself buying foods for "Harold" that he really didn't want. I would "accidentally" eat a chip and then spit it out in the garbage out of guilt only to realize how much I liked the taste and eventually eat most of the bag.
Usually, one takes 14-12 weeks for contest prep. 10 of those weeks I would struggle right up until the last 2-3 weeks. I'd pull myself together right at the end to lose 12 lbs or more in the final cut. My last show, I was 99 lbs. I had tunnel vision (as I briefly told you in another blog). I thought I might be dying as I stood half naked getting fake tan applied the night before my show. Blackness set in and I could barely see around me.
The next morning, I took 3rd and qualified for Jr.Nationals. I also put on 12 lbs in the first week post show and then got back up to the 120's.
Although I have accomplished a lot with my physique. I also realized it was all in the wrong way. It was not healthy for me physically or mentally and it encouraged negative behaviors. I also realized that I did not truly LOVE my competition food. It was bland and uninteresting. It was all super super lean. There are 3 things that really add flavor  to food: 1) Salt 2)Fat 3)Sugar. The Sugar is definitely out, so, the more I learn through the years the more I realized it was the fat I was missing.
After all, why was I so tied to the bad foods of my past? Well, it was just dang delicious! My brain and body clung to it with all its might to get that one last fix. So, what if I taught myself to cook and to make the foods I should eat totally scrumptious?
That's when I started watching Food Network and utilizing Tristan's culinary savvy. Having an expert chef in your address book and work place always helps! Between trial and error, I found food that I love to eat on a weekly basis. So much so that I actually crave it. Many of my recipes have been modified over the years as I've grown as a fitness professional and health coach, but they're still mine and they're still delicious!
Here are my staple meals:
Chilli (used to be just turkey, now it's grassfed. It used to have beans and now it's veggies)
Meatballs(or meatsauce) & spaghetti (squash)
Whole Roasted Chicken (Tristan taught me this one)
Grassfed Chicken thighs/drummettes
Grassfed Hamburgers
Other game changers:
stuffed squash
meat muffins
crustless quiche
Sides are always a veggy and sometimes a starchy veggy like sweet potato or roasted butternut squash.
I have to say, there's nothing like cuddling up with a nice bowl of chili any time of year. It reminds me of my mom who was a fantastic cook! Then, for an ex-fried chicken junkie, the chicken thighs and drummettes come out crispy and is the perfect fake out. You get all the flavor, all the nutritional impact without the disease of deep fried and battered chicken.
It is work. Duh. Yes it's a little work! Did you not say you want to be healthier? Do you not want to feel and look your best? Well, I think you can do this little bit of work for yourself. Oh, and then go eat out! You'll be amazed the number of places that have healthy options. Veggy and protein combos are on every menu now and they are to die for! I eat out often. It gives me a break and also gives me a chance to try new things!
So there you go. I hope I didn't paint too graphic of a picture for you. I'm sure you would never imagine me in this light. I know my struggle. I know it's apart of my journey and it's apart of my destination. I own it and take pride in the fact I arrived. What I'm not pleased about is how long it took me to get here, the whole 12 years of my career.
So, here's where I tell you…You're not alone. Reach out to us here at www.MandevilleFatLoss.com , on our facebook page, and feel free to message us if you need guidance. The hardest part for people in losing weight and keeping it off is….Nutrition! Nothing worth having in life is easy. You can have nutrition re-hab too just like me and it doesn't have to take you 12 years when you have the right plan, the right tools and the right support. You can gain control over your body and all it takes is falling in love with food, real food, real good food that is good for you inside and out!
Enjoy this easy to make side dish, Riced Cauliflower! It's easy to make, versatile and is the perfect "catcher food" (as I like to call it) for any of your meals containing a yummy sauce worthy of something swimming in it (chicken marsala, meat sauce, chili, etc)
Num Num…Ummy Ummy…(as Sabella and Mila would say) Eat up!
[youtube]http://www.youtube.com/watch?v=ngIBV7tmtvo[/youtube]
Hugs & Health!
Sam Prestenbach
Fat Loss Specialist & Certified Health Coach
---
My personal account of the Gulf Coast Half Sunday October 14, 2012:
"Sometimes…I get a good Feeling. I get a feeling like I never ever felt before, I get a good feeling." Bumping from my honda at 6 a.m.  in the morning as I drove down a quiet sleepy road in Mandeville, LA this past Sunday. On my way to my second Gulf Coast Half on the Northshore! It was a good feeling. I was PUMPED! I wasn't just pumped up with lactic acid from the Warrior Dash I had completed just 18 hours prior. Those race day jitters started up and, well, it really was a good feeling.
I knew today was bound to deliver myself an accomplishment. You would think I would be exhausted from having done the Warrior Dash just the day before, but no I was alert and ready to go. This morning I was ready. I was ready to step out from behind the "I just had a baby (2 years ago)" excuse and break that 1:57-2 hr 1/2 marathon time that was haunting me like a ghost. It was nagging at me much like this in my mind, "Was my 1:48 PR a fluke? Is this as good as it gets for me now?"  Ah, who knew. What I did know is I didn't plan on going home with anything less than 1:53.
A few miles from Fontainebleau State Park, I was making good time. Surely, I would be into the park and out my car by 6:10. The closer I got to the park, the slower my car moved. Red tail lights lit up the dark morning as we all eagerly trailed into the park. As I sat in the driver's seat, alone, my heart raced, my mind wandered. I was figity and anxious. Very easily, I could have parked my car in the road and started my race right there. But, this was not an option and so I searched for what patience I could find and sat as still as possible as my car inched closer and closer into the park at about 5 miles per hour.
My rapidly beating music only irritated me at a certain point and so I looked out my window at the many people doing their warm-up lap. Ugh..I was jealous. As my jealousy quickly passed, I soon began to wonder about these people jogging about. Was it their first race? Was it their first half marathon? Would he/she have a PR? Was one of these people going to win the race? Maybe she's running in someone's name or memory?
My body twitched and my legs were ready to fire! But, my heart was traveling in another direction. "What are the many stories to tell this morning?"
Finally, I was in the park and my car was tucked away in a self made parking spot. I jogged towards the starting line, which was maybe half a mile and started searching for Tristan, lead personal trainer at Lift Training Studios. He was going to be my inspiration today and although I did not expect to be able to keep up with him…I was sure going to try.
It was still a little dark. I went to the Jones Physical Therapy tent first and said my good morning's to Paul and Melissa and then asked, "Hey…did you see T? He has my race #." They hadn't seen him yet and so I told them to hold him hostage if he passed until I got back. : ) I didn't walk far before I found him. "Ah…I knew it would be the first half naked man I saw", I joked with him. (If you looked like Tristan, you'd walk around half naked too)
We said our good morning's as well and then an awkward pause. "So, you have my number?" I asked. His eyes opened wider suddenly and mouth dropped. "What. No. You didn't get my text?"  He had left my number at the studio and told Harold. It was not like Harold to forget, but we did have a rather busy weekend. I couldn't be mad. It wasn't like I was going to win. Who cares. It's the fact I could run it and that's all that mattered.
Of course, Tristan had a solution and here's where you can't go wrong doing local races. I was taken care of and properly suited with my race #! I was excited but of course no race is complete without a little pre-race drama.
Now that the drama was over. We had a little time for bathroom break (absolutely essential pre-race) and then we made our way towards the "Start"!
The crowd was thick and the air was crowded with anticipation! We tried inching our way as close to the 9 min/mile section but it was of no use. I have to thank Tristan for staying with me. He was so prepared that had it not been for me, and my silly girl ways, he would have been in that starting line right where he was meant to be.
Standing in place. I put my earbuds in, started playing Young The Giant (not too fast, not too slow…filled with words to help me run this race with intention), got my running app ready and took some deep breaths. As the music played in my ear, "Life's too short to be the carrot…" I looked down and noticed that there was still dirt under my nails from the day before. Would it haunt me on this run? Was I a glutton for athletic fun this weekend? Did I sacrifice my PR to slip-n-slide in the mud yesterday?
Before I knew it, we were off! Was there a count down? Was there a gun shot? I missed it as I often do, but no matter, Tristan was at my side and I can always trust in his lead. Slowly at first, we trotted over the start and into the first few miles of our run. It was like a maze. Winding in and out of all different paces to find our place on the road that day. Again, I trusted in Tristan. Men are often good at these kind of things. Sure enough, he found us a spot were we could find a good steady pace. "7:30, 7:45, 8:00, 8:15″…My little running coach whispered in my ear from my running app as if to suggest…"Find your pace already!" But she never yells, oh no, she is always very calm. And, so we did find our pace. 8:30 mins/mile.
I was quite hesitant to accept it at first. This pace was feeling very good, very manageable, but would it be manageable for 13.1 miles? That was the real question. I had hit close to this in a training run, but everything is different race day! Everything. To take my mind off the worry, I focused in on the crowd as I usually do in a race. What did I see? I saw a young man running in a purple shirt that said, "For my dad", a long lean man that looked like a well seasoned runner, a gentleman darting into the woods for a potty break, and straight in front me was a petite little power house of a woman. "Hmm, " I thought, "Cute outfit". As she strutted along in my favorite athletic apparel, Lululemon. I also noticed she was in great shape. Very lean & muscular. People would think that's odd for me to focus in on such observations, but don't forget what my career has been for the past 12 years. I'm a personal trainer, it's the first thing I notice and appreciate.
Anyway, I noticed her pace. Steady and even it was and slightly faster than me. She would be a good pace leader for the moment. This is something I do every race too when I hit a point of struggle. I look into the crowd and find someone who can lead me through. They never know it, but for that time, they are my guiding light.
By mile 6, my guiding light had disappeared. We hit the lakefront and Tristan started to fade a little too. I should have slowed a bit too, but I made a pact with myself to stay at 8:30 for the whole race if possible. I couldn't slow down now, I had to prove it to myself if I could do it that day. So, I strutted along in a sea of unfamiliar faces. That was until I hit West Beach St and not long after turning I see a water table, a much needed water break and the first one I took on my run. "It's Sam!" I hear and I was so excited to see my friend and Lift ambassador, Courtney eagerly reaching out with water. I stopped for just a few seconds to drink, because I still haven't mastered the Drink-while-you-run-but-don't-choke method (I'll get there one day Ryan) and set off again.
As I picked up pace again, I looked across the street and there was the rest of my crew. Harold, Brett, my father-in-law all ready to aid the runners that day. I wanted to hop over that median to Harold. I wanted to say, "Ok, really 6 miles is plenty today", but I resisted. Mile 6, mile 6.5, Mile 7…the mental warfare began as I made the loop into Heritage subdivision and worked my way to Harold.
And there was my sweetie finally. A cup of Go-Go juice, a kiss, and I found myself lingering as if I needed to be pushed from the ledge. Suddenly, a pat on the tush and I felt like one of the guys in the locker room! "Yea, I got it coach, put me back in" is what I felt as Harold sent me on my way.
I don't remember much at this point. The great Varsity crew. Bud gave me a nice "Hi 5" but I think I would've hugged him if he told me it was the end of the race! Heading onto the trace, I had to call out the big guns, as H would say. Mile 7.5, mile 8, mile 8.5, mile 9….the miles were passing slow and I need some real motivation, my girls.
When times get tough, I make my list. "I'm doing this for my girls!" I proclaim out loud only in my mind but would yell if not to startle other runners. But, of course, in times of weakness you'll fight yourself on even the things you love and want the most. "How is this for my girls?" I questioned myself. I could be with them right now. So, I made my list.
Cons: 1) I had to wake up early. 2) 4 hours without my girls
Pros: 1.) I'm a walking, talking, living role model for my girls 2) I added years to my life span with my husband and girls 3) I have tons of energy to play and be silly with my girls 4.) Well into my golden years, I will not be limited in the things I can do or the places I can go.
That's enough, but I can elaborate and go on for years because this literally translates into every aspect of my life as a mother, wife, and professional.
Mile 9.5, mile 10, mile 11…heading back into the park the grand cascading oaks mark there will soon be a finish and a resolution to the battle in my mind. Mile 11.5, Mile 12…"Pace 8:32″ she whispers in my ear. "Time 1:45″ With one mile left, regardless the aching of my muscles, I can always make a big push at the end. (Picture this being said in a charming southern accent…)"Like a horse running to the stable" a man once described me as at the Rock N Roll (Yes, I was once referred to as a horse. Hmmm, compliment?"
Anyway, this horse was off and I poured every last bit of my energy out on the last mile. Why? Because I wanted to take out anyone next to me? No! Because I wanted to be done ASAP!
1:52:14….I had done it! The days of the post-baby half marathon times were behind me and I was on my way to progressing towards my personal best again. For me, a person whose life line, my air, is personal achievements and aiding others in realizing theirs, this truly meant the world to me.
Who knew a little 13.1 race in Mandeville, LA could mean so much to one person. Realizing the thoughts that went through my head, the story of my personal journey, I was eager to hear more from others. My friends who I've been so blessed to meet along this journey to wellness and living a full life.
It's a fact. People think about the things that matter the most to them when pushing their personal limits. When Dustin Hinton started his weight loss journey (53 lbs lost) and aimed to become an "Iron Man", he thought of his son Boston. This Gulf Coast Half was a 1 year anniversary run for him and marked the beginning of his journey to the Louisville Iron man.

I could go on and on about this guy. In the short time I've known him, he's inspired me and I know many others with his story. Every time I chat with him, I walk away with something meaningful to transpire into my life.

"Surround yourself with people who inspire you to be more than you were yesterday. " I always say. Point and case!
In Lorraine's words: "Latest Obstacle:
Well, it all started with qualifying for the 2012 ING NY Marathon in 2011.  That was my 50th birthday present to me.  I had a 20 week training program in mind.  BUT about two weeks before that training was supposed to start, I had a little biking accident on the trace.  Long story short – I hit a bump and it sent me airborne into tree, face first, 17 mph, …. Thank God I was wearing a helmet.  That was May 19th.  My bike did pretty well; the tree did great!  I suffered hairline fractures in discs C4 C5 and C6 in my neck.  Good News: it would heal without surgery, I could walk, I had all my teeth, had my sense of humor….  Bad News: I had to wear a neck brace 24/7 for 75-90 days.   No running, no training, no biking riding for the rest of the season – I thought I might go insane!  I wanted NY so bad.  So I started recumbent biking at Stone Creek, with a neck brace on (I got some attention).  I worked for 60 days and got up to 18 miles at 18 mph at a time – I biked over 480 miles.  Then I started climbing stairs, with a neck brace on (hello gluts!).  I was released by my Doctor to start jogging mid August.  My first run was three miles and I ran seven miles that week!  It was very emotional ("I get to run").  Fast Forward – I set a goal to run the Gulf Coast Half Marathon in October and booked a room in NYC for the ING marathon on November 4th!   New York City Baby!!!  It will be my second marathon and hopefully not my last.
Brian's first race ever was last year, the 2011 Gulf Coast Half.  He skipped the 5k fun and CCC 10k and went right for the half marathon.  He ran a 1:44.  Then went on to run Ole Man River and ran a 1:32, then he came in first/masters at The Wall (25k?).  That whole experience motivated him to join a running group (we met!) and read Advanced Marathon Training.   He has already run two marathons and qualified for Boston.  He's not only gifted but extremely disciplined and passionate about training.  His goal this year (anniversary run) was to run the whole half marathon at an even pace – which he totally nailed!  He ran a 6:44 pace."
Jeff is my neighbor! On many runs, we pass each other in our neighborhood. Sometimes we stop and chat and sometimes it's a polite nod and a wave of the hand and that's the subtle ways of "Runner's Support". What I didn't know about Jeff is that he has quite a story of his own. Jeff used to be 30lbs heavier

Jeff told me, "I ran it last year with a time of over 11 min per mile. Lost 30 lbs this year and ran 10.09 a mile. I could have done it faster." I can relate Jeff. Keep doing what you do and you'll get there!

Jeff found support in his brother and likewise his brother in him I'm sure. He said, "He has a torn ACL that he never had repaired. This was his first half. At mile 7 it started to bother him."

Yet, he finished! Incredible.

I'll never forget doing the Pensacola Half just a few short months after Mila was born. Crossing that finish, it was my most challenging race, but hearing, "Way to go Sam!" over the mic made me feel so accomplished! That's mike. He's nothing but upbeat, friendly and a true believer in people! These races embody southern culture and it's all about the people and the places we live. 13.1 miles can be intimidating, but not The Gulf Coast Half! It's fun and friendly. This is what races should be all about…living life!

There were many other friends and stories that day. Too many to count, too many to write about, but all worthy of a "Hall of Fame" for sure. Shannon M. and her sister Lauren, I saw their updates on Facebook noting the impact this race made on their lives. I'm inspired and motivated by all of them. Just when I want to quit, and believe me I do want to quit sometimes, I think about my "Why" and I think about all the people who are searching for and achieving greatness in their lives on a daily basis. Suddenly, I know, it's not enough to just wake up, work, eat, sleep…life is about more. When you say you want more, you have to choose to "run' after it, sometimes literally in my case and the case of my friends. "More" doesn't just walk up to you and say, "Take me! My name is More and you can have me." Nope, it's something you seize. It's there for the taking if you truly want it. It just starts with you deciding to grab it. When will you grab it?

Hugs & Health,

Sam

Fat Loss Specialist & Health Coach
---
(I use my blog as a journal of sorts so that means, it may not be posted same day since there is some work to do on editing the videos etc)
This is the week before the Warrior Dash and the Gulf Coast Half Marathon in Mandeville! I have to admit. I'm tired!
But, I'm tired in a very liberating, "I've accomplished something" kind of way. There's not many obstacles or excuses I can think of at this point that can truly de-rail me.
Thanks to my friend Mandy joining me for a Lift-N-Lunch today, I realized that the hardest part is behind me…I've figured out a workout schedule that will consistently work for me, my babies, my husband and my work.
Sounds like no huge feat? Sure it is. For the hundreds of people I have trained and coached, the ones that did not succeed in reaching their goals it was for 1 or 2 reasons: 1) Nutrtition 2) Consistency or a combination of both.
Nutrition…I've got it. It's my nutrition that keeps me at 110-112 lbs with little exercise where as I used to easily fluctuate 118 lbs to 120 lbs (at 5'2"). It's the combination of incredible sustainable consistent nutrition with efficient exercise prescription on a weekly basis, every week that takes me from petite to Wow!
Focusing on for 8 weeks of just getting out and doing something, anything, whether it was running, a random workout at home with my girls, or a quick 15-20 minute workout at the studio in order to establish a routine. I had to see if it was even possible with my crazy schedule to expect I could carve out this time for myself.
Before kids, before the studio, before personal training and before health coaching…I worked out whenever I wanted and never had to have a set workout schedule. Turns out, just the thought of finding the time and energy for working out consistently is actually very difficult for 70% percent of adults.
As Mandy and I cooled down with some core work under the refreshing gusts of the fans, I realized in talking to her, that this was her struggle too. For Mandy, having two young ones, one of those being under one year old, it's a fine balancing act in which a mom's plans can get de-railed at any given moment. Does she set an a.m. exercise routine? Does she attempt two a.m. routines and one p.m. routine or should she simply just go with the flow? But, if she goes with the flow…What if the flow carries her to the couch to catch up on some Bravo Housewives! (I can say that's happened to me before…I know, terrible, but it's truly the only show I watch…Occassionally : )
Going through the experience myself now, I can see why it is one of the hardest parts of getting fit. It was especially hard when I started adding in more runs. The running as soon as I added it in I realized how much I had missed it! I went a little crazy and started running Mon-thursday plus a long run on the weekend. That lasted a few weeks and then I saw I was overdoing it and it would not be something sustainable with my family or work  life or at my current fitness level.
Then, I realized how easy it was for me to get my runs on Mon-Wed-Friday and long on the weekend. That was doable. I know I want to be out the house by a certain time so in order to do so a few things need  to happen. I cook dinner earlier, put away dishes, get kitchen mostly cleaned and have dish washer ready for loading. Then, I wash the girls get the smallest to bed and the oldest has time with daddy as he reads her a book. That's Monday and Wednesday. Fridays I can do morning, noon or evening which depends on activities at the studio. On the weekend, I don't like to take time away from my family so it's always done while they're sleeping.
As for my Lift days, I lift weights in a high intensity circuit for no more than 30 minutes and often far less. I like to hit it hard and go home. I enjoyed my Tuesday workout so much, I decided to keep it similar with a little twist for my special guest!
Using my Gymboss Timer, I set it for 9 rounds 1 minute intervals. In that time, we performed each exercise for 1 minute until the beep and then switched!
– Rowing machine
– Walking lunges
-sled push
-ball squats
-Ball Slam
Tuesday:
1 min spin bike
Then the following was 10 reps:
deadlift 115 lbs
Box jumps
Sled push
Lat pull down
Full sit up
Db push-press
Repeat for a total of 3 sets
[youtube]http://www.youtube.com/watch?v=j3vxlxJ6kBs[/youtube]
---