It's no secret that Lift Loves Food! We love to cook, eat, and talk about real good food that is real good for your body! Nutrition is such an integral part of what Lift Training Studios does for our clients. I would love to continue to raise awareness and offer our guidance to others. So, I have it set in my schedule, the first Friday of every month is "Sam's Healthy Picks at Rouse's" This is a complimentary service from the Lift team; however I must say it is a client come first procedure, but we are accepting anyone who wants to join so long as space permits. I like to keep this type of session in close quarters and as personal as I can, so, I am limiting it to a max of 10 people per meeting.
Here is what we'll discuss:
What is the Paleo Lifestyle all about.
Building your grocery cart. The esssentials.
Seasonal vegetables and fruits: Cooking ideas
Cooking must have's
Save or Splurge: What organic items to spend extra on
The session will begin at 10 a.m. and end at 10:45 a.m. with a 15 min Q & A. How do you sign up? Email info@lifttrainingstudios.com with subject: Groceries with Sam
Feel free to start asking questions about food any time. I love talking food!
Hope to see you at Rouse's!
Hugs & health,
Sam
---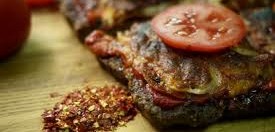 It's 11:30 p.m. I've just finished cleaning the kitchen. The dishes are nestled safely in the dishwasher awaiting a brutal washing set on auto for about 2 a.m. The counters are wiped. The floors swiftly swiffered up. I'm feeling more positive now, but an hour ago this was not the case. It was a tail spin of an evening. Monday through Thursday 3 p.m. hits "mommy mode" for me. At that time, no emails, no phone calls, not a single text trump that of my baby's smile. My undivided attention is theirs. I'm at my family's beck and call. Cooking dinner, making plates, doing bath time and typically just goofing off. This evening was a bit different. Mila is teething and, might I add, in a really bad way. Oh momma, she didn't really start cutting teeth until after her first birthday. She went from 4 teeth in December to being about 3 teeth shy of a full mouth.  Basicially, they're coming in at the same time.
She's cranky to put it lightly. The poor baby just holds her mouth open and lets the drool fall out. When 5 pm hits, the past few days, the gloves come off and she's ready to scream. I love my baby and I can't imagine how bad this hurts, but man this really makes my evening duties difficult. By the time I got her to sleep, singing and walking back and forth for 40 minutes, I still had to feed the rest of my family. When Sabella went to sleep, I needed to sit…just for a second I told myself. Glancing back at the kitchen, all I saw was a complete disaster. No matter how much I told myself, "Just get it over with", I could not bare the thought. It was like there was a magnet pulling me to the couch to watch "King of Thrones". "I wont' fall asleep, I just need a second to myself."
An hour and a half later, I woke up to Harold brushing my cheek gently in attempt to wake me up. Where's the "Easy Button" when you need it? With a sigh, my response was, " I hate that kitchen". Yes, as much as I cook and as much as I love our lifestyle and just how incredible we feel…Paleo can be a lot of work sometimes. Cooking paleo for kids, you have to be creative. I think I have learned 30 different ways to cook beef. Meatballs, chili, lettuce tacos, morrocan beef & cauliflower, apple parsnip meatloaf, meatza, hamburgers, veggie beef lasagna (cheese free)….etc etc. The days when I just…hit the wall are often out of frustration of needing a new recipe or just so tired of cleaning the kitchen. This usually happens once a week. Sometimes I get the feeling that living paleo is just hard. Being from a christian household, who do you ask for help in times of need…So, I go to the man himself and say, "Dear Lord, give me strength…" That's it. That's all I need for new perspective.
Then I remember, not everything or everyday is going to be easy. Suddenly,  I realize how grateful my husband will be to wake up to a clean kitchen and a fridge stocked full of fresh food. Sitting here, wrapping up this blog post, I can go to bed with a burden free mind knowing I won't wake up to a mess and that my daughter's lunch is packed and ready to go. Suddenly, I feel pretty stress free and, actually, very grateful that I have a kitchen to clean and a family to feed and the 'Know how' to feed them the right way. I guess even adults still have a little temper tantrum every now and then. The difference, at least we can talk ourselves out of it.
Hugs & Health,
Sam
---
"The Hangover"…. now that is a funny movie! What's not funny is waking up with one. A hangover is typically associated with liquor, large amounts of it I might add, but how many people say they wake up each day feeling "great"? Today's post is about validation for you and for you to take charge. Because, about 10 years ago, every day felt like one big hangover for me. I was lethargic, cranky, had headaches often….just sluggish. How often do you just feel "blah"? Probably pretty often and what's sad is we just accept it.
"I'm tired, I need my coffee." "I'm tired, I don't feel like making eggs…how about a muffin from Starbucks instead" "I'm tired…I'll run tomorrow." Now, if you're anything like I was once, these are daily occurrences that led to years of re-runs. Re-runs can be good, when it's a good movie or a good show like "Friends" but re-runs of poor food choices and lack of activity only result in a rapidly conspicuous decline of alertness and energy. Now, this is for many reasons and we could get really scientific about this, but I'm not the expert when it comes to the science. If you want the expert, let me know and I'll send you in the right direction. Let me give you the clif notes. It all boils down to "FOOD".
SO, at this point, I'm realizing I might as well proudly and humbly accept my title that jokingly floats around the studio…"The Nutrition Nazi" and I finally get it because, man, when it comes to food I just don't let up do I!? Ok, ok, get this…it's all because I've been there…really been there to that low point as you've seen in my recent posts. I have faith that by sharing this, others can heal too.
The point is, you do have a choice. We can complain about how bad we feel. We can go to the doctor in desperation hoping for a cure by something we'll ingest to only cause more problems. We can search for someone who cares. Well, I'm saying I care! I care that you are waking up like I used to, in a fog, feeling crappy and hungover. I care and I'm telling you, "You're not crazy! You are really feeling this way." Now, get up and DO something about it! No really, do something about because eating french fries or that sandwhich even are not going to make you feel better. You can try to make yourself feel better and say "Can't hurt once a week?",  but let's get real…are you only eating bread once a week, chips once a week, candy once a week, oatmeal once a week, cookies once a week and the list can go on and on. We introduce probably more that 20-30 harmful substances into our bodies any given week via food, drinks, medicine and wonder why our bodies don't do what it's supposed to.
At the end of the day, what you're doing isn't working is it? As Harold would say, "Your way isn't working so let's try mine." If you really want to get out of that fog and get rid of the constant hangover, go over to your pantry and just start cleaning that sucker out. It's going to look pretty bare, but that space should just move over to the fridge which should be full of home cooked food, veggies (fresh or frozen, and fruit. Go ahead, give it a try, what do you have to lose? Oh yea, that darn hangover finally.
Not sure how to make the switch? Refer to the right of the blog and click… "My Personal Paleo Code" (the lady doing the pull-up) for more help.
Don't forget to comment below!
Hugs & Health,
~ Sam
[youtube]http://www.youtube.com/watch?v=BnKVHvs3Qjo[/youtube]
Btw…haven't seen this one yet..I hope it's just as funny!?
---
I featured this picture in my "Whole30 Changes a Whole Family's Health" blog this week and I thought…"Hmm, what a mean little tease I am not to include the recipe." While it certainly doesn't take a genius of a chef to roast anything, it doesn't hurt for someone to tell you just how they do it to make it utterly delicious.
First let me start by saying just how EASY and Quick it is to roast veggies. Secondly, I love that it just makes almost any veggy instantly tantalizing. Thirdly, it sort of disguises lack of cooking skills. Just say this to yourself…" Tonight we're having citrus marinated chicken with roasted eggplant." Ooh…yum and sounds totally gourmet.
Alright, typically from what I've seen, roasting vegetables is done in the oven around 425 degrees. I, however, get a little frightened and might I add for absolutely no good reason, when putting the temp that high. So, I modify, like I do most things, and set my oven on 400 degrees instead. However, I should add a Warning because I'm making it sound too easy. Let me add, SET YOUR TIMER and do not leave the room. The vegetables will cook quick, very quick depending on how thin you slice, and this means it could easily burn as well. So, just stay in the room and keep a close eye to make sure they come out just as you would like.
Anyway…Here's how it's done:

Preheat oven to 400 degrees

1 bunch of parsnips, peeled & cut length wise
5 large carrots, peeled & cut length wise

Kosher salt & fresh ground pepper

Place cut veggies on baking sheet. Pour melted coconut oil over veggies. Toss and season with salt & pepper. Cook in oven at 400 degrees for 8 minutes. Check for color to be golden, especial around edges. If not crisp, cook for additional 2-4 mins.

Let Cool and Enjoy! BTW…awesome post workout! Let me know how you like it and if you have any questions. It's a beautiful day out, enjoy your weekend : )

Hugs!

~Sam
---
[youtube]http://www.youtube.com/watch?v=yuFI5KSPAt4&ob=av2e[/youtube]
(a little music for thought…also a huge Peppers fan)
People go about life struggling all too often. Financially, emotionally, physically, and socially there is always some battle some where that causes us stress in our lives. It seems like the older I get the more I realize it takes WORK to be an optimistic person. An adult, a parent, has so much to think about and we try diligently to stay ahead of the curve. Can I pay my bills? Is my kids car seat in right? Did I do enough exercise this week?
The more I see just how much I have to think about each day I wonder…"How hard can I make my life if I fight the most obvious things?"
See, I don't want my life to be 'hard'. There are way too many unpredictable things in life that will eventually cause me to have a bad day. Knowing that, I've been on a pursuit to streamline my life. Now, I'm not an extremely organized person. I'm creative. I come up with ideas, many ideas, sometimes all at once. So, to streamline anything take a good bit of effort on my part. I have to focus…really focus. No, I'm not mentally challenged, just maybe a little adult A.D.D. (easily distracted by shiny things…You said what?). What it all boiled down to was…
What was causing me the most anxiety or stress in my life that could be in my control?
When I asked myself this question. It was almost like opening Pandora's Box. The flood gates opened and suddenly I realized, besides being blessed with a new baby, a beautiful 3 year old, a new home, a thriving business, a wonderful marriage…I was struggling, seriously struggling. For some reason, although all these wonderful things kept me really happy for the most part…when silence fell it just so happened that something else was missing.
I know what you're thinking. You can only handle so many "deep" blog posts per week. My sentiments in last week's post was just enough lovey dovey mushiness to last you a month or more right? Well, no worries…there is a point beyond my utter infatuation for life, my work, my family and I plan on getting to it soon.
The thing is I lost sight of my ongoing pursuit for health. For a few months, I somehow was pig headed enough to think I had it "figured out". I lost the baby weight really quick. I ate my quinoa. I was relatively toned without doing much. I ran the Warrior Dash 3 months after having Mila and did my first half marathon since being pregnant just 4 months after as well. Guess what, it was all a load of bull dookey. From the outside in my body was crying out for help only it took me too long to hear the cries...poor dear body, please forgive me for all the neglect! This is where you'll see I'm different. I can admit my wrong doing and I can admit it doesn't affect my credibility as a personal trainer. As a good fitness professional, my first commitment is to experiment on myself and continue research. When I realized I had become complacent is when I realized something was wrong.
November and December of 2011 it all began to spiral out of control. Only, what was my wake up call? Was it that I was dead tired all of the time? Maybe the random pimples that broke out on my once flawless skin? How about depression? Ok, if that didn't do it…then maybe my insane level of anxiety? Or…my random "losing it" fits with a 3 year old. Whoa buddy…Wake up Sam…something is up with you. But, no, that did not make me see the light.
My poor sweet Mila was not thriving. She had stopped gaining weight. Now, I'm small. I have small babies. But, my Mila was only slightly over 15 lbs at her 1 year birthday. Just like any other baby she had her 3 servings of rice cereal a day, toast and butter, eggs, meat, some veggies (this actually was extremely rare..she often refused it) and maybe some fruit (which she often refused as well). She was cranky, lethargic and I remember telling my friend Shannon, "she eats, but she just looks so weak. She wants to walk but her little legs look wobbly, like they can't even hold her up."
The doc put her on pedia sure. I gave in; although it felt so wrong, and just wanted her to gain weight. I would have done anything. Thinking, "Oh well, I don't like this, but maybe we'll have some relief…" I went to CVS right away and bought our first pack of pedia sure. Then things got really bad. She went from playing in small bouts to sitting on my hip all day. I took 2 months off work hoping I could figure it out. By the end of December, she was one cranky baby and not an ounce heavier. I had never felt so lost, so out of control.
For a mom who is so hands on and wants to do everything for my babies the 'right' way…I could not help but feeling like I was doing everything wrong. Something was attacking my family right before my eyes but I just couldn't put my finger on it!
Had we not gone to this seminar, I hate to think where I would be today…possibly in the looney bin, Mila…I don't even want to think about it. Suddenly, I discovered what was really attacking my family…the Damned American diet. I had suspected it all along, but I felt a little alone. For a while, I had been the nutritional pioneer in my family and then we added kids. Once Sabella turned one, it's like all the outside non-sense, the unsolicited advice got to me and I no longer could follow my gut (literally & figuratively) about what was right to feed myself and much less my family. Luckily, Harold, Tim, and Tristan trudged forward collecting knowledge to which led us to the Whole9 seminar.
January 14, 2011. It was on my 30 th birthday and I have to say initially I was like, "Really, on my birthday?! This is what we're doing for my 30th birthday???" Let me say, it was the best birthday gift I have ever gotten and the information was so riveting and life changing that I went home and…
For the very first time in my ENTIRE 30 years on this Earth I did not have a piece of cake on my birthday.
Rewind…Melissa and Dallas Hartwig…warriors for real sustainable food…real good food, spoke about the grief injustice America is serving up on a platter every day. They, the people in the labs, take food that was once good, strip it down to nothing and fill it up with something made in a lab. No wonder why we're sick. This was not all news to me…but, as they revealed the secrets hidden behind the labels of my organic crackers, pastas, chips, brown rice, quinoa, earth balance butter, and greek yogurts…I was appalled. Simply, I was appalled that I ever convinced myself any of it was ok for me or for my family.
The day went on and Dallas spoke about our digestion and hormones…Melissa exposed the madness of the "cheat meal" or "cheat weekend". I never thought about the fact that I was constantly inuring my stomach each week and expecting it to heal between Monday and Thursday. The quirky analogies were enough to make me laugh and cry at the same time because…I thought, "That's me they're talking about!" As Melissa spoke about the effects of dairy, grains…terrible systemic inflammation and the fact that most of us can't even absorb the so called "essential minerals and vitamins in these FDA recommended foods" (because our bodies weren't made to eat them…Yes, milk is made for baby cows.) My poor Mila came to mind. You bet, I jumped up as fast as I could on the next break to speak with Melissa.
I told her my story, Mila's troubles, about my 3 year olds skin issues and raging fits and suddenly my suspicions were confirmed and backed up by facts. I was not ok with my 1 year olds breath reaking of sugar. I confessed the Pedia Sure's had 20 g of sugar in it…the second ingredient is sugar. Of course she did not want to eat anything else, 300 calories per drink and most of it sugar! Why not add in dairy to add insult to injury.
Scary but true…Here's what I gave her every day:
Water, Sugar (Sucrose), Corn Maltodextrin, Milk Protein Concentrate, High Oleic Safflower Oil, Soy Oil, Whey Protein Concentrate, Medium-Chain Triglycerides. Less than 0.5% of the Following: Soy Protein Isolate, Short-Chain Fructooligosaccharides, Natural & Artificial Flavors, Cellulose Gel, Magnesium Phosphate, Potassium Citrate, Potassium Chloride, Calcium Phosphate, Calcium Carbonate, Potassium Phosphate, Salt (Sodium Chloride), Cellulose Gum, Choline Chloride, Ascorbic Acid, Soy Lecithin, Monoglycerides, C. Cohnii Oil, m-Inositol, Potassium Hydroxide, Carrageenan, Taurine, Ferrous Sulfate, dl-Alpha-Tocopheryl Acetate, L-Carnitine, Zinc Sulfate, Calcium Pantothenate, Niacinamide, Manganese Sulfate, Thiamine Chloride Hydrochloride, Pyridoxine Hydrochloride, Riboflavin, Cupric Sulfate, Vitamin A Palmitate, Folic Acid, Chromium Chloride, Biotin, Potassium Iodide, Sodium Selenate, Sodium Molybdate, Phylloquinone, Cyanocobalamin, and Vitamin D3.
Contains milk and soy ingredients. Gluten-free; suitable for lactose intolerance. Not for children with galactosemia.
Homey Say What?!?
I went home and knew exactly what to do for my family and myself. I knew it would not be easy. I knew it would be a battle, but surely it was one worth fighting for and I was ready to fight! Harold and I went through our pantry and threw away organic mac & cheese, organic cheese crackers, organic cookies, organic cereal, organic mini pancakes and organically laughed at our stupid butts the whole time. We went to the grocery store and loaded….LOADED Up on vegetables, fruits, meats, coconut milk, coconut oil, olive oil, herbs, macadamia nuts, ghee and…that was pretty much it. By day 2, Mila was devouring broccoli and any fruit and vegetable I threw her way. By day 3, she was a new child…energetic, happy, standing up, trying to take steps and PLAYING…Omg, the kid was actually playing. Day 4, I couldn't resist, I had to put her on the scale. Just 4 days into the program, Mila had gained a whole pound! She started at 15.5 lbs that Sunday and by Thursday she was 16.5 lbs.
A whole pound…in 4 days! I was ecstatic and that little taste of success was all I needed to seize control over my seemingly lost empire. I was the pioneer of my family's health once again and this time I had the best general of all (harold) backing me up all the way. I had my game face on and I was not losing this battle. The results didn't end there. Mila by week 2 was up another pound. We started our 30 day (Whole30) reset January 16 and by January 28 (on our wedding anniversary) Mila began to walk.
My baby, who once was just surviving was thriving!
February 14 marked the end of our Whole30. I know, we couldn't have timed it better right? Not to be boring but we didn't go celebrate by eating a load of chocolate or a loaf of bread. Our minds in that time had won that battle and no longer saw that as a reward. Instead, we were so elated with how we felt that the foods that once affected us negatively that once had such power over our minds just no longer had that power anymore. So we waited another week and for some reason thought we would treat Sabella to home made cookies. I made a batch of cookie dough like I used to not so long ago. I baked up 6 cookies and froze the rest. I had 2 cookies, Sabella 2, and Harold 2…do you know, I woke up feeling hung over the next day! My stomach hurt instantly upon eating them and I realized it really didn't taste that good anymore and, no, it's not because I can't cook. I'm an excellent baker. My body was strong enough to tell me, "No, dummy, I don't want that!"
So…Let me sum it up for you exactly what happened to my little family during our Whole30 day reset:
Mila went from barely being able to gain 2 oz in a month to gaining 2 lbs in the first 2 weeks.  Started walking, talking, and interacting with us. She was happy and I know any other mom can attest to this…you know when your kid is just not right and you know when they're right. All was right. I was scared about changing our nutrition and, with Mila, it couldn't have been easier. She barely put up a fight for half a day and then she gave in and ate the foods she was meant to eat. Melissa was right, "she might go hungry for a day but she will eat. " and eat she did in less than that. Pureed pears with coconut milk, roasted carrots and parnips, butternut squash soup, broccoli (like candy, she likes this more than fruit) and the list goes on and on. Funny thing is, she literally would have thrown this at me, on the floor, had I gave it to her before I pulled all those other foods out of our diet.
Sabella, my precious 3 year old.
Starting at around the age of 2 small bumps appeared on her cheeks, then on her upper arms, and recently  rash looking bumps on her forearm. This baby lived with a runny nose or nasal drip. Her drip was so bad it affected her breath. This was pretty much year round. Obviously, this had something to do with her mood. She was cranky and often seemed just irritable. This resulted in outrageous fits. She rarely ate fruit and never ate veggies. It had gotten to the point where should would pick out carrots and celery and anything resembling shape other than that of meat out of her chili. This is the child that I had my head on straight with for at least the first year. Her first foods were mashed banana avocado. She would eat butternut squash like it was going out of style. Then, suddenly, I find myself a few years later begging….I mean really begging her to eat something other than bread or crackers. Now, here was my battle. I mean daily I had to put up my dukes and think about how I was going to intelligently battle this out with her. You have to carefully pick your battles with a 3 year old and a 3 year old should not, cannot, make decisions about their food choices. I googled constantly for recipes that could bridge the gap for her…paleo muffins, pancakes, bacon wrapped organic sulfite/sulfate/nitrite/nitrate free hot dogs, white rice in moderation, home made chicken nuggets in almond flour and coconut oil and (none of which was Whole30 approved for me and Harold) then bridged the gap by finding ways to convince her to eat the foods she really should be eating. I had to resort back to feeding her and playing little games. "Momma squirrel gonna nibble it all up…" This is best imagined in a squeaky high pitched baby voice….I would say some really silly stuff just to lighten the mood and get that child to open her mouth. Sure enough, it worked and 30 days into the program she started feeding herself again. Whew…with her, we really had to think about…"How do we explain to her why we're doing this..why she can't have this"… so, here's how we did it:
"That ______(insert bad food here) is not good for your tummy. Your tummy is not happy when you eat________. This ____________(insert good food here) is really good for your tummy. It makes your tummy very happy. When your tummy is happy, you can have muscles like mommy and daddy. You will be strong and smart and really, really fast. Faster than daddy!"
All this worked. Her runny nose instantly disappeared and only reappeared for a few days after the cookie incident. He cheeks and rash started clearing up around week 3/4. I feel it took longer because we struggled in getting her to eat enough vegetables. Her moods were even and balanced. She seemed to have the patience to listen and calm herself down.  She now looks for fruit as a snack, loves Lora bars, and our "Totally Awesome Chocolate Date Balls" (thanks to Mrs. Georgia for sharing). The vegetables are still a work in progress but today she ate some raw carrots…so there's always hope. She loves helping me cook and being involved. It's helped to instill pride in the food on her plate.
Me…The FOG LIFTED! Whatever was causing it, and I suspect it was many things, it was gone within days. Suddenly I felt like this weight was lifted, off my brain and I could think and see clearly. I realized I was malnourished…sometimes I only ate two small meals (if you could call it that) a day. My energy increased dramatically by day 3. For months I was trying to get on a set morning routine of waking by 6 a.m. before the kids and I always failed because I couldn't drag my limp and achy body out of bed. In less than a week, I was nearly hopping out of bed at 5 or 5:30 a.m. I felt rested, recovered, and the aches were gone. The depression…GONE. The anxiety….Gone. Pimples…Gone. Terrible PMS…Gone. 5 lbs stuck around my middle…Gone. Tiny bumps on my arms (which doctors always said would never go away…started disappearing. My tolerance and patience…I was like a ninja, you can't make me lose my cool now. I knocked 2 minutes off my fastest 5 k time with zero training. Unintentionally, I did not do but one run and maybe one workout the whole 30 days and each day my abs were leaner and they looked just as lean in the evening as they did in the morning. That fat on my midsection lingering from pregnancies suddenly started disappearing as even my panties got looser (TMI…weird but true…my hip flexors even looked leaner than ever).
You know what, I could care less about the weight. It's how I feel that makes me want more of this lifestyle. This is why I struggled for so long to really change my nutrition. It was about the wrong thing. It was about losing that fat under my butt cheeks or on my tummy. Sorry, but that's not enough reason for anyone to give up sugar and crap permanently.
When it became about my health, my happiness, and my sanity is when I really was motivated to change…and change I did.
I drink my coffee black or with coconut milk and guess what…It really didn't kill me! I actually appreciate the taste now when I used to think it tasted like poison.
The fact that I never feel "bloated" anymore is really amazing. It's sad that many people get used to or think it's just normal to be bloated, gassy, have irritable bowel and the typical solution is to go to the doctor for medicine. It's not the doctor's fault. They are not taught nutrition, but if they were, it would be based on the food pyramid and that would do no good either. My thoughts that food is the best medicine is now even further fueled by my experience and this huge online community of people just like me.
Harold…the man was born with a six pack yet he struggled with digestion. He would get easily bloated after eating and, much like his daughters and I, had chronic allergy/sinus issues…only his were much worse. It had gotten to the point where he would have to rush to RediMed 2,3,4 times a year to get a shot and be out of work for a day. Within the first week…no more drip or congestion. Weeks into the program, as everyone is sick and congested or has sore throats, he's running around skipping and whistling. His bloat…Gone. We were going through 2 extra large containers of spinach and spring mix a week, 5 bags of frozen veggies, fresh cauliflower, cabbage, kale, 5 dozen eggs, 4 cans of coconut milk and lord knows how much grass fed beef and chicken drumettes. He, a man that used to call potatoes and corn vegetables, now gets excited in the grocery store when we get new vegetables to try.
How did I make this work for my entire family? It all boiled down to streamlining. I crafted a simple plan and followed it. This meant simply knowing what I was going to cook and preparing it ahead of time, or most of it, for the week. Here's how my Saturday cooking looked:
Chili (no beans, just beef & veggies)
meatballs (just egg no breadcrumbs)
hamburgers
2 whole roasted chickens
Apple Carrot & chicken hash
coconut muffins (for the girls)
Parsnip & Apple Meat loaf ( i made this one up…yum)
Coconut Ice Cream (for the girls)
Totally Awesome Chocolate Date Balls (totally clean too)
This carries us for a while and then if I have time I sometimes make something new and different during the week. Me and H's favorite breakfast, Apple Carrot Hash with an egg on top…or 5 eggs for him.
Hands down…this is the best we have ever felt. I'm not going without, so don't feel bad for me. I feel bad for those who barely eat any vegetables or fruit and haven't been told yet that their bodies are trying to give them a warning. I actually get really excited about how I eat because it's so damned delicious! I enjoy everything I eat…grass fed meats, if it's a vegetable…I eat it, any variety fruit, and lots of healthy fats. Put these together and you have a gourmet meal.
So, was it worth it? YOu bet! My entire family is thriving. My entire family following the same lifestyle. If anything, this drove home that I am the sole protector of my family. If I don't fight for their best interest, for their health, who will? The night of the cookies incident, Sabella was very tired and wanted to bypass brushing her teeth. I went to her bed and as I explained we really had to brush her teeth, she had sugar on them from the cookies which could make our teeth rot, she replied, "But momma, then why did you give it to me?" My heart sank, my stomach hurt from guilt and from that damn cookie and instantly I realized she knew no better. She needs me to show her the way. So she may want some popcorn if we go to the movies and we've already decided we'll do a once a month family outing for maybe a pizza if we really feel like it, but because we set the bar for our kids and are teaching them to eat mindfully, we know their bodies will ultimately tell them what is best. Even though, it's over 2 months of paleo living for us and we haven't made that trip yet…I guess we'll cross that bridge when we feel it's really time.

This is our mission…should we choose to accept it…Mission Not So Impossible. Check! 
Let me know if you can relate…Do you suspect certain foods to be the root of certain problems? Don't be afraid to speak up!

---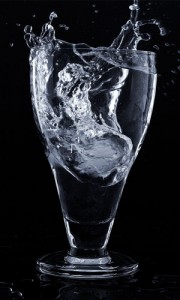 I bet you hear a lot of things about "how to burn extra calories" and it can be rather confusing. Point blank, who doesn't want the quick way to Awesome!?! I know I would, but is there anything that serves as that "Magic Pill" for health, fitness, weight loss, fat loss, and everything in between? Who knows, there are a ton of fads and facts floating around out there. Problem is, how do you know what's right and what's wrong? What is worth your time and what should you forget? That's where this segment comes into play. Having been a personal trainer for 11 years now. I have experimented with every fad out there. My team and I have researched and gone through trial and error to learn for ourselves and our clients what really works. So, let's talk about water!
This is a very very old tip that gives way to some truth through basic science. "Does drinking cold water burn extra calories?" Basic answer is "Yes". Why? Well, just like eating, you burn calories just by digesting food. When you drink cold water  your body warms the water to your internal temperature. Now, we're talking about ICE COLD water here. If it doesn't make you shiver, it's not going to have the same effect.  A 16 oz glass of water converts to about 17.5 cals…that's a little more than a stick of gum. Conversely, this topic should make you think further into the body's metabolism and it's efforts to stay in homeostasis. If your body naturally warms water as it passes through your very warm body resulting in calories burned, could the same be true of drinking hot liquids in warm weather? Yes. See, same holds true. The body wants to remain in homeostasis. If you drink hot liquids in hot temperature, your body will have to work to cool your body.
So, knowing what you know now….Is it worth it? Drinking proper amounts of water is always worth it. What you need to ask is, "Does it make that big of a difference?" Well, the calories burned in itself are pretty insignificant. Yes, it can add up, but most people do not drink enough water. But, if you are drinking 80 oz of water per day or more, you could burn over 80 cals per day. Still that is tiny compared to the calories you can burn from running, lifting weights, or doing yoga. Shoot, it is even miniscule compared to the calories burned through digesting a meal (which is a great future topic).   However, other benefits to drinking lots of water of any temperature are that it will:
naturally curb & suppress your appetite keeping you full & satisfied after & in between meals
speed muscle recovery & rejuvenation
slow aging
prevent fatigue
aid in digesting
prevent bloating
reduce inflammation
Be prepared, no amounts of ice cold water can burn off poor nutrition and lack of activity. So, instead of just focusing on drinking LOTS of ice cold water, let's stay focused and use it to complement a training program and NOT as your sole source of fat loss. You will be a lot happier with your results in the long run.
---
So, I recently went to Key West, Florida for a little RNR. No babies, no drama, and no work…Just a few friends hanging out. Knowing there might be a bathing suit involved, I needed to make sure I was eating correctly in order not to completely embarrass myself as a personal trainer. Sure, I just had my second baby 5 months ago. If I really wanted to, I could have taken the easy way out and blamed an un-toned physique on the newly arrived baby. There would have been a whole host of excuses to use like: sleepless nights, whiny baby, not being on a schedule, nursing, doctor's appointments, tired mommy, not enough time and the list can go on and on. But, I didn't use any of these excuses no matter how valid they may have been. Instead, I followed up my "Project Momma Fit" plan with a super-charged fat loss meal plan to follow strictly for 2 weeks in order to look the best I could. I didn't end up needing my swimsuit for much, we chose to do more sight seeing than anything else, but I did feel great and confident about how I looked. Wondering what I did to get an instant lift in my appearance? Well, similar to my "No More Pooch" Journals I did last year almost around the very same time, it's all structured around eating super clean foods in small portions frequently throughout the day. Here's how it goes:
Week 1 & Week 2 (Monday & Tuesday):
Breakfast- Mango Madness Shake: .25 fresh frozen mango (dice & put in ziploc bag to store in freezer), 2 fresh leaves of Basil, 1 sc of Jay Robb protein-vanilla, 4 oz original Silk Almond Milk (NOT vanilla), 2 oz water, 1 tsp SFH fish oil
Snack- 20 almonds, 1/2 apple
Lunch- 4 oz lean protein, .25 c quinoa, 1/2 c cherry tomato, .25 avocado, .25 c beans of choice (garbanzo, black bean, edamame, cannelini, lentils), fresh spinach 1 c sliced, 1 T feta, 1 T Newman's Own Lighten Up Italian, Caesar, or Balsamic. Mix all ingredients in bowl together. This dish is great cold or hot.
Snack- 2 boiled eggs
Dinner- Same as Lunch
Snack- 1 c blueberries or 1 SMALL glass red wine if you need to just CHILL!
Water- 100- 120 oz per day
Week 2 (Wednesday – Saturday)
Breakfast- 4 scrambled egg whites (plus 1 yolk), 1/2 c berries, 1 pc ezekial bread (eat as open faced sandwich with eggs on top)
Snack- 20 almonds, 1 orange (mineola is my fave)
Lunch- Quinoa Bowl as above
Snack- Quinoa Bowl as above
Dinner- 4-6 oz lean protein, 1 – 2 cup spinach with cherry tomatoes, 1 T Newmans Own Balsamic, 1 handful blueberries
Water- 80 – 100 oz (You will want to drop 20-30 oz lower than your normal intake from the previous week to expel a little extra water retention, but you must keep water super high the previous week in order for this to work.)
The rules are very simple. I followed this meal plan exactly for 2 short weeks and saw incredible changes in how I looked and felt! Here are some tips that help me to stay so regimented:
– Cook large batches of what you will be eating one time per week. For example, in this plan, all you need to cook is quinoa, protein ( i did chicken & fish), and boiled eggs (1 whole carton).

– Buy ziploc containers that will hold your perfect portions and fill them with several meals that will last you at least 4 – 5 days.
– Have one cup or water container you use and figure out how many times per day you will need to fill it up in order to reach your daily hydration goal. I use my St. Tammany mug….fill it up 5 times.
– Don't be bashful…pack your foods, carry them with you, and make no apologies for your ability to be so committed to your health.
– Exercise! 4 weight sessions whether it's with your  body weight or at the gym…work on your pump! Cardio, at least 3 short but intense cardio sessions each week.
– Don't Sweat it! Ok, you may have fallen short on your workouts, but that is no reason to think this can't work for you! The workouts help to define and show your muscles, but eating this clean will without working out will demand incredible results as well! The only difference is that you may not look as sculpted as your working out counterparts, but you will still shed unwanted pounds to help you look incredible this summer.
Questions? Ask me below in the comments so I can help you get started on your very own "2 Week Tone UP"!
---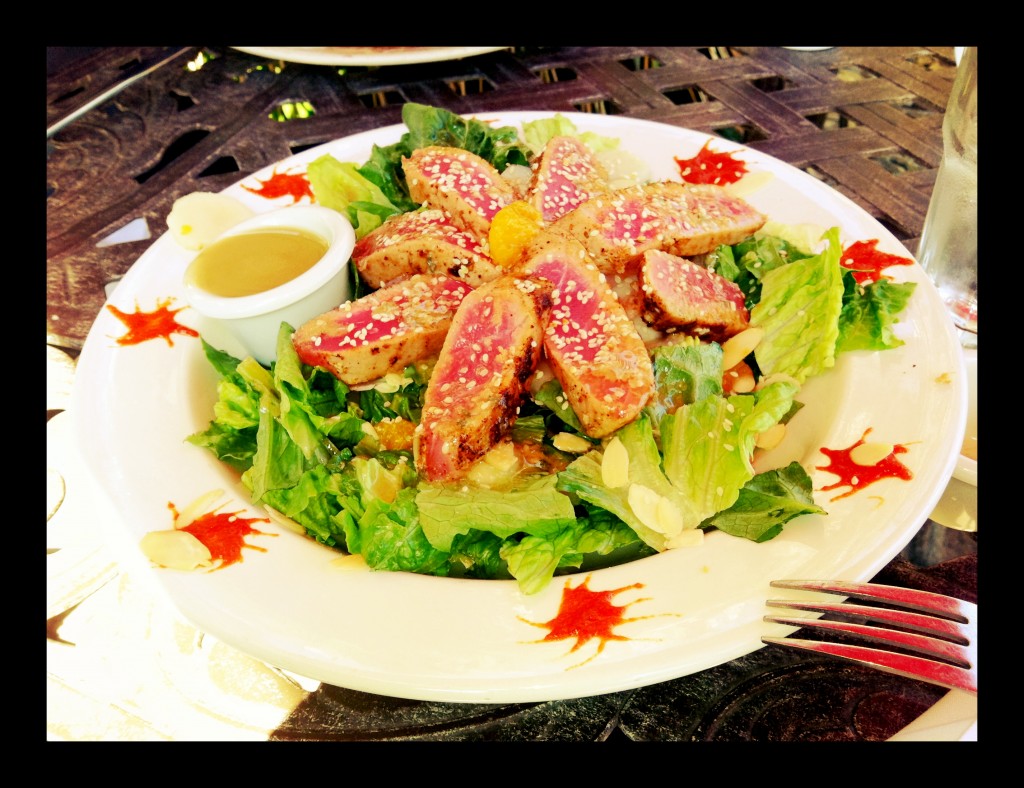 Wow, this weather is simply amazing, yes?! Harold and I found ourselves to be very hungry after work Friday. We walked outside to feel the cool breeze and warm sun and thought it would just be a shame to close ourselves up indoors. So, we decided to stop at the Broken Egg and eat outside. Being so close to the lakefront, it just has such a quaint and airy feel to the scenery that we find so peaceful and relaxing. Now, I am firm believer that you can be fit, healthy and live a healthy life without living under a rock. So, we go out and we eat out. In fact, Rachel, from Project Momma Fit, mentioned in her Momma Fit Chronicles last week that she found it very easy to eat healthy while out and about. She said the options are right there in front of your face and she's right! All you have to do is really want to eat healthy and look for the healthy meals and VOILA…I guarantee you the healthy items will come tumbling off the menu as if they were always there. Oh, wait, they were always there.
Well, if you read my blog post, " Eat, Drink, & Be Merry" you'll probably picking up on the fact that I like seared Ahi tuna. Well, I do really enjoy it, but only when it is super fresh and cooked correctly. I was not disappointed with my salad when it came out. It was beautifully displayed with little mandarin oranges, sliced almonds, sesame seeds, and spots of some kind of chili sauce. Just gorgeous! The wasabi vinaigrette was nummy too (served with two cups of dressing but just use one.)! Overall, I would definitely eat this salad again and again and again. The tuna is such a clean source of protein and substantial at that, it kept me full for several hours. I do recommend you try this one out folks. If you go, make sure you tell them Sam said it was "da Bomb"! Enjoy friends.
Hugs!
Sam
---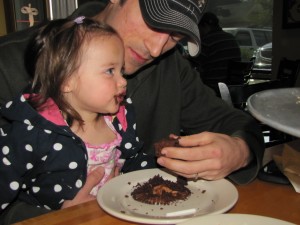 As a self-proclaimed chocoholic and a personal trainer, I realized these two were a combination that well…do not mix. For years I thought giving up chocolate was my final demon to abolish, the last obstacle to overcome, and the unsurmountable mountain left to climb. Surely, in my 10 years of reform on my once unhealthy lifestyle, I had attempted to give up the yummy goodness of chocolate only to fall from the peak in failure. Woe is me…will I never be truly fit until giving up the decadent goodness of chocolate?
Well, I suppose just like anything else if you search long enough you can find the good in the worst of evils. As for chocolate, more evidence rises to the surface each year proclaiming chocolate as the next fountain of youth. What's the catch? See, we're not talking about eating hostess cupcakes or a snickers, what the experts are seeing profound health benefits in is dark chocolate. Hallelujah! Better yet, the list of benefits is quite expansive. Dark chocolate is proving to contain properties and compounds such as antioxidants, minerals (magnesium and copper), flavanoids ( catechins and epicatechins),  and serotonin which may help the following:
Blood pressure
Reduce stress
Increase blood circulation
Lowers cholesterol levels
Boosting immunity
Treating anemia
Reduce free radicals ( cancer causing agents)
Cure depression
Heart health (contains large levels of Gallic acid which protects against LDL oxidation; LDL Oxidation-key component that promotes atherosclerosis which increases the risks of heart attack or stroke)
Increase endorphins
So long as one eats a clean diet free of processed foods that is balanced, it is quite easy to incorporate dark chocolate into a healthy diet that will keep us looking good inside and out. So, what are my favorite brands of dark chocolate? When it comes to this yummy splurge, do the best or don't do it at all. My favorite is Lindt, Ghiradelli, Ritter Sport (my top pick!), and Perugina. No truffles either people, you can't trick me…just straight up good old dark chocolate.
---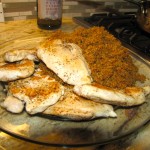 You may be short on time but you still want to feed yourself and your family something healthy and delicious. There's no need to sacrifice health and taste because of lack of time to cook. Here is one of my staple meals for my family when I'm tired and/or just lack the time to make an elaborate feast. Not only does the quinoa (Ancient Harvest Quinoa) and chicken cook in only 15 minutes, quinoa is one of the healthiest carbohydrates you can eat being the only one that is a complete protein. It is also like a sponge for any kind of flavor you add, for me, just using a really good stock like Kitchen Basics, fresh ground pepper, and sea salt does the trick. As for the chicken breast, do I need to elaborate there. It's organic Springer Mountain Farms chicken, it's lean, it's a superior protein…need I say more? Plus, there's a ton of different meals you can assemble from the left over quinoa and chicken breast. Breakfast, lunch or dinner…there's no reason why you shouldn't cook this meal every week.
[youtube]http://www.youtube.com/watch?v=5mhUA2ddlRM[/youtube]
(below: How To Cook Perfect Chicken Every Time)
[youtube]http://www.youtube.com/watch?v=XDrJotwRCZ0[/youtube]
---