[youtube]http://www.youtube.com/watch?v=6xG4oC_Pt0Q&list=UUJZihtHRaLk18r_dGsdo5Tw&index=1&feature=plcp[/youtube]
So…here we go again! Since getting more structure to my running program, my lifting program suffered for 2 weeks (and also adjusting to holidays). I don't know about you, but if I just take one week off from Lift'ing, I find it very difficult to muster up the motivation to do an intense lifting session. Here's how I talk myself into it…
I know for a fact through practicing on myself and training others that HIIT (high intensity training intervals) and circuits are the most efficient forms of fat loss, sculpting, and muscle building. It effectively controls insulin & cortisol levels that may go awry when lifting intensely for long durations. Well, that suits me just fine because that means I'm going to be done in 30 minutes or less with my workout!
This workout was done in 15 minutes (that's with transitions) and I felt every minute of it. Let your muscles do the talking and forget conventional methods of working out. If 10 minutes is all the time you have or all the time you have motivation for..then it's plenty enough time.
Hugs & Health,
Sam Prestenbach
Fat Loss Specialist & Certified Health Coach
---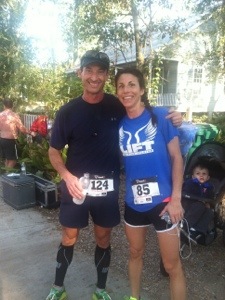 Today was the annual Keeping Up With the Jones 5k! Always a fun race. In the past four years, I've been blessed to see it grow to be quite an event! As for the Jones themselves, they're incredible people. Sweet, genuine, smart, and fun people to be around, Paul and Melissa are a positive team bringing energy to everything they do.
This may be why I'm so fond of this race. After re-connecting with my inner athlete and and the delicate balancing act that is life…I found so much peace in my training I wanted to infect others within my reach to shoot higher.
Its obvious, many of my clients already lift weights regularly. For my coaching clients whom work with me via phone & email on nutrition, they may not be exercising at all yet. There is something missing. No, not just cardio, but the hope to aspire for more. The hope that "your" body and "your" mind can fight the odds. The hope that you can define what "athlete" means to your body and in your life.
Yes, I know, you're thinking,"Ok, Sam, you're not just getting deep here, you're digging deep."
But, it's true. Failure in itself should be defined by the lack of belief in one'es self. So, after my 10 weeks of training myself back to incredible, I decided that I was going to try to convince others to believe.Keeping in mind, many of our clients don't run, have never run or run very little. I knew it would be smart & safe to start with a 5k, or 3.1 miles, in which anyone could walk even at a slow pace.
This was the perfect event for this new challenge. Fun, Friendly, non-intimidating but competitive if you want it to be so.
Since I had been doing more training than Harold and since I had enlisted the advice of Mrs. Rachel Evjn Booth, we decided he would be Mr. Mom and push the girls.
I do believe, Harold has always been Mr. Mom for this race! (Ok, next year honey)
Although Courtney and I and the team busted our booties recruiting and motivating others to join us, I was not actually sure just who was showing up!
Right before the 1 mile started, I saw our group pleasantly pull together! We had a showing of 18 people between team members & clients!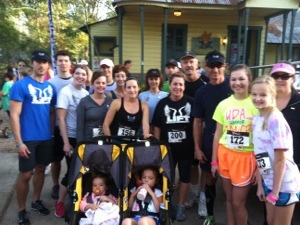 Yay! We're going to change some lives today!" I thought…and erase some fear & doubt.
Sabella ran the 1 mile, as best as a 4 year old could. She did intervals. She would run to the stop sign, STOP, whine a little while walking, Run RUN Run, STOP, piggy back Ride, Run Run Run, STOP, daddy carries and runs with her safely cradled in his arms and then he sets her down so she can make her glorious mad dash to he finish.
As the one mile fun run ended, it was time to pull our team together for the 5k! There was a hint of anxiety and a pinch of panic in the air but mostly just excitement! It was so neat to see many clients show up who had never done a race of any sort or it had been a very long time since. Instead of running away, they all pulled tight into a well knit group. We chose "pace leaders", many of our first timers were walking. Tim, headed up the walkers. Rachel, Tim's girlfriend, and Courtney walked & jogged and then we had our 9-10 min/mile group and then the 9 min/mile or below group. Mostly, this was to offer a sense of  "togetherness" at the beginning, because it's often the beginning that is the scariest part.
Although I was initially planning on being a pace leader and pushing the girls, my coach, Rachel, advised me to use this as a benchmark run for the rest of my training. I was a little nervous about this. The Gulf Coast Half was a great race for me. I figured I could do a 5k faster than a 8:30 pace, but maybe not my PR of 21:50? I had only ran 3 times since the half that was on October 14…in this case, what would be doable?
Blah…who needs "doable" when you got grit! I decided to shoot for slightly slower than my PR. I aimed for a 22:00, but honestly I would've been happy with anything under 25:00 minutes. I clung to T's side yet again. "T, I don't think I have it in me today." He nudged me off as if to suggest I was just being silly, but, I really wasn't sure.
Music on, check! Runmeter app on, check! Go! Tristan was off…faster than a speeding bullet (nothing like a little superman analogy). My Runmeter lady popped in my ear, "6:50 min/mile" and you know what she meant, "SLOW DOWN STUPID". I fell back behind Tristan until I got to a more comfortable pace, 7:30.
As we made our way to the lakefront on this beautiful morning (another reason why I LOVE the Jones 5K, it's always awesome weather), you know how my mind wonders. I recalled the first year I ran the Keeping Up With The Jones 5k and I had actually won overall female! Thinking back now, I would give full credit to this race for solidifying my love for running. I had never won anything for anything athletic other than cheer leading before. The only medals or trophies that decorated my room were State Science Fair medals and a "Most Spirit" trophy. I knew I would not take first this race, but I wondered, would I have a chance of even ranking? As we turned onto the Lakefront, I felt pretty good. I seemed to be in the first wave of runners, even if I was dead last for the fastest it still felt good to be anywhere close to them!
Then, I looked down and thanks to my dad always telling me to "Look down where you walk", my whole life (I grew up in the country. Snakes always ended up under my foot), I managed to not so gracefully leap over a snake! I can't tell you how many times I've been on a run, looked down at a twig and thought it was a snake only for it to be just a twig. But, this time the twig was a snake! It was not alive though. Wonder if it got trampled by those cheetah like runners? Anyway, I thought that this little snake was going to get the last laugh. If only I could have a camera set up to catch images of all the panic stricken runners leaping high into the air. Harold said he got to see a good bit of it.
When I made the loop directly on the lakefront, I was so happy to see Harold and my babies and Melissa Paretti and Jessie Wolz turning the curb too. I was waving and hooting and hollering and then I remembered…"Oh, you're supposed to be racing silly." Rachel clearly told me to "make it hurt" and I'm sure waving is not part of that scenario. Even at this point, running a 7:15-7:30 pace, waving was no longer an option. I started feeling the pain. It's a little funny because, here you go again…Every race has it's own story, here I was pushing myself as hard as I could and I told my clients, "don't push too hard, just come see what it's all about".
I forget what I was thinking most the rest of the race until my insanely poor sense of direction got the best of me once we turned off the lakefront. I gave it another hard push, because I thought I soon would be finished, only to realize that I had another mile left. Where was that voice when I needed it? I guess I tuned her out at the wrong time. I had to dig really deep for this race and when the end was in sight, I found a little extra in the tank to pull out a 22:40! Needless to say, I was pleased. Tristan had done a 21:50! We both took 2nd in our age groups.
I was so happy to be finished but happier to wave and cheer in all of my friends!
In the midst of recovering from my hard push during the race, I realized I unfortunately missed several of our team members coming through the finish : ( There were so many incredible finishers. All of them, regardless of the time it took to cross the finish line, all closed their race with enthusiasm and a sense of accomplishments! What's most impressive is that everyone was impressed with themselves! Even people who thought they would just walk, ended up jogging a little. People who thought, they could barely jog, ran. People who thought they would finish in 27 minutes ended up do it in 25 minutes.
And, Talk about "Super Dads"! There was my hubby with his double jogger, Garrett rocking the Jeep stroller, and Dustin pushing Boston for a stroller PR…I tell ya', it's enough to make a girl go all googly eyed! There were all kinds of super dads out there that day. Of course Tristan, but we also had Todd Reeves and 2 beautiful girls who ran the race with him. Brett did the 3.1 (super fast) and then did another 3.1 to finish a long run. Jeff who also came, ran, made a PR and then ran back to his family!
At the end of the race, the air was filled with a lot of this, " I can't believe I did…" fill in the blank. I think many of us couldn't believe they had a good time. Monday morning the studio was filled with a different level of excitement. It was very intriguing and somewhat familiar feeling. As I talked to Julie, she was just overflowing with pride. The day before the race what I heard from her was a lot of "I don't know…" and then Monday she knew she could and what's more is I think there's no doubt in her mind that there's more to come for her.
All it takes is one little thing, one little event to build your confidence and to show you the possibilities of your body. Erase your doubt. Just because you've never experienced success or lasting transformation doesn't mean it doesn't exist for you.
[youtube]http://www.youtube.com/watch?v=c7GxiRaY0nM[/youtube]
Here's to uncovering your inspiration and your internal motivation!
Hugs & Health,
Sam Prestenbach
Fat Loss Specialist & Certified Health Coach
Congratulations to the whole team: Cecily, Kathy, Beverly, Doug, Julie, Allison & her daughter (plus friend), Courtney, Rachel, Tim, Tristan, Jessie, Tracey, Garrett, Landen, Kennedy, Amy, Jeff, Todd, Sarah, Emma, Melissa, Naz, Brett, Joy and of course Me,Harold and our two princesses!
---
(week 4 of my "Fitting in Fitness" Journey)
Alright, by now, you may be thinking I'm super mom. You might even be thinking I've got it all under control. Nah! If i didn't make it clear in my last post, I'm pretty imperfect. I've accidentally cursed in front of my kids. I forget daily tasks on a a daily basis. I'm  just like any other person. I had a terrible weekend too. Why? Oh, no fault of anyone else's…just was in a funk. (shoulder shrug)
It started off with a great staff get together. After that, things began to unravel. See, I thrive on structure. It may be difficult for me to create and even implement initially, but when I do, Oh Boy…I love it. However, the smallest thing to throw me off my newly adjusted schedule ends up putting me in a tailspin. Very quickly, I find my surroundings to be overwhelming.
I returned home to no food to be cooked. Which turned into a very late lunch, which turned into no plan for dinner. The girls were not ready to eat again and being a bit cranky, so, I put their tiny hiney's in the stroller for a quick jog. It was such a lovely evening a 3 mile jog turned into a 5 mile jog. Only, the pleasantry quickly turned into one cranky baby who was suddenly ready to be put to bed and another who was fighting sleep by talking a mile a minute…Literally! That girl can talk!
After jogging behind a double jogger for 5 miles…It's no surprise that I was exhausted! I walk in to a frustrated husband because somehow I forgot the metabolism the man had and Of Course he would want to eat again! I had no plan and his frustration quickly turned into mine. Only, I made him suffer most of the rest of the weekend for it. I mean, how dare he ask his wife what's for dinner!? Men!
I took Saturday off for some recovery. I slept later. I didn't clean, cook, (I did do the groceries)and I didn't do the laundry. It was like I was on strike for a day.  I took the girls to the park and  just played. No worries, just fun with them. By the end of our play session at the park, I figured I had way to much to smile about. For whatever reason I was frowning, it needed to be turned up side down pronto.
By 1 p.m. they were happy and ready for a nap and I was ready to pick up my pouty lip and make amends with my moody self.
" I usually have so much patience. I just don't know what got into me. I'm sorry" I explained to H. He gave me a hug and shrugged off my moody temperament that quickly.
Ah…Men! : )
I cooked dinner…Happily might I add. I came to conclusion that I was simply overwhelmed. For four weeks, I managed to get in 4 workouts a week and by the fourth week I added two short runs. The first two weeks were exciting. Week 3 I felt the extra pressure. Week 4 I was exhausted and a bit moody. There's always going to be growing pains, but I'm confident all will fall into place!
So, here was my theme song for the weekend. Well, only the "she's so mean" part remind me of myself and the rest is just cute. Enjoy!
[youtube]http://www.youtube.com/watch?v=-8WLa6umgdw[/youtube]
I was so aggravated. I put the babies asleep and locked myself in my bathroom to finish my workout…Women! I did 3 rounds of this circuit. Enjoy the workout and the song…and hopefully a giggle on me.
---

Monday's weigh in comes in at 186.  That is a ½ lb weight loss since last weigh in and not at my goal of getting below 184 for this week.  I think I'm just ready to drink the punch and do something revolutionary by Rachel standards…I am not going to focus on how much I weigh.  Do y'all hear the crickets too?  My goal is to NOT get on the scale every morning.  Drum roll, please.  Lora has encouraged me to pick a size I want to be in rather than a weight I want to be.  Alright, I'll take a sip of punch and roll with that.  My first thought for ultimate goal is size 6, but I don't think I've ever been in an 8.  Maybe we should start with goal of size 8 with a short term goal of a size 10.  Right now I can squeeze into some size 10 pants/shorts, but I can't leave the house dressed in any of them.  Instead of beating myself up about not losing 4lbs every week, I am going to focus on being excited about the changes that I am noticing in my body and how I feel smaller and tighter.  Lora is still going to weigh me on Monday's just to make sure the weight number is not going up.  I think for this to work I'm going to turn around on the scale to weigh so I can't see the number.  I'm going to get my husband to hide the scale at home.  Or I'm sure he will just throw it out because he is sick of tripping over it all the time.  I know I am working out hard enough between Lora and Sam's workouts and my running/kickboxing classes.  Need to tackle this diet thing.  Usually, I follow pretty good, but there is always the creep factor – too much of approved foods, too many fat girl meals, or too much beverage.  I'm going to make this about one meal at a time and focus on making it the right choice.  Sometimes I am not going to make the right choice, I'm going to get over it, get back up, and move on.  If I never quit then I will achieve my goals. Right, Jenn!  I'm going to check back in when I can walk out of the house in my size 10 yellow pants.  Who knows how long it is going to take, but I know I'm going to get there!  More punch please…..
Thanks!
Rachel
---
So, I recently went to Key West, Florida for a little RNR. No babies, no drama, and no work…Just a few friends hanging out. Knowing there might be a bathing suit involved, I needed to make sure I was eating correctly in order not to completely embarrass myself as a personal trainer. Sure, I just had my second baby 5 months ago. If I really wanted to, I could have taken the easy way out and blamed an un-toned physique on the newly arrived baby. There would have been a whole host of excuses to use like: sleepless nights, whiny baby, not being on a schedule, nursing, doctor's appointments, tired mommy, not enough time and the list can go on and on. But, I didn't use any of these excuses no matter how valid they may have been. Instead, I followed up my "Project Momma Fit" plan with a super-charged fat loss meal plan to follow strictly for 2 weeks in order to look the best I could. I didn't end up needing my swimsuit for much, we chose to do more sight seeing than anything else, but I did feel great and confident about how I looked. Wondering what I did to get an instant lift in my appearance? Well, similar to my "No More Pooch" Journals I did last year almost around the very same time, it's all structured around eating super clean foods in small portions frequently throughout the day. Here's how it goes:
Week 1 & Week 2 (Monday & Tuesday):
Breakfast- Mango Madness Shake: .25 fresh frozen mango (dice & put in ziploc bag to store in freezer), 2 fresh leaves of Basil, 1 sc of Jay Robb protein-vanilla, 4 oz original Silk Almond Milk (NOT vanilla), 2 oz water, 1 tsp SFH fish oil
Snack- 20 almonds, 1/2 apple
Lunch- 4 oz lean protein, .25 c quinoa, 1/2 c cherry tomato, .25 avocado, .25 c beans of choice (garbanzo, black bean, edamame, cannelini, lentils), fresh spinach 1 c sliced, 1 T feta, 1 T Newman's Own Lighten Up Italian, Caesar, or Balsamic. Mix all ingredients in bowl together. This dish is great cold or hot.
Snack- 2 boiled eggs
Dinner- Same as Lunch
Snack- 1 c blueberries or 1 SMALL glass red wine if you need to just CHILL!
Water- 100- 120 oz per day
Week 2 (Wednesday – Saturday)
Breakfast- 4 scrambled egg whites (plus 1 yolk), 1/2 c berries, 1 pc ezekial bread (eat as open faced sandwich with eggs on top)
Snack- 20 almonds, 1 orange (mineola is my fave)
Lunch- Quinoa Bowl as above
Snack- Quinoa Bowl as above
Dinner- 4-6 oz lean protein, 1 – 2 cup spinach with cherry tomatoes, 1 T Newmans Own Balsamic, 1 handful blueberries
Water- 80 – 100 oz (You will want to drop 20-30 oz lower than your normal intake from the previous week to expel a little extra water retention, but you must keep water super high the previous week in order for this to work.)
The rules are very simple. I followed this meal plan exactly for 2 short weeks and saw incredible changes in how I looked and felt! Here are some tips that help me to stay so regimented:
– Cook large batches of what you will be eating one time per week. For example, in this plan, all you need to cook is quinoa, protein ( i did chicken & fish), and boiled eggs (1 whole carton).

– Buy ziploc containers that will hold your perfect portions and fill them with several meals that will last you at least 4 – 5 days.
– Have one cup or water container you use and figure out how many times per day you will need to fill it up in order to reach your daily hydration goal. I use my St. Tammany mug….fill it up 5 times.
– Don't be bashful…pack your foods, carry them with you, and make no apologies for your ability to be so committed to your health.
– Exercise! 4 weight sessions whether it's with your  body weight or at the gym…work on your pump! Cardio, at least 3 short but intense cardio sessions each week.
– Don't Sweat it! Ok, you may have fallen short on your workouts, but that is no reason to think this can't work for you! The workouts help to define and show your muscles, but eating this clean will without working out will demand incredible results as well! The only difference is that you may not look as sculpted as your working out counterparts, but you will still shed unwanted pounds to help you look incredible this summer.
Questions? Ask me below in the comments so I can help you get started on your very own "2 Week Tone UP"!
---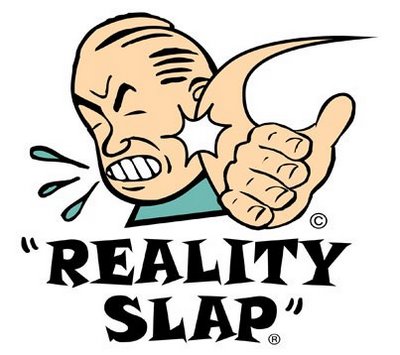 Week 8 – Rachel's Journey to weighing 140lbs
Today's weigh in comes in at……I don't think I'm telling!  I want to believe it is going to be mine and Lora's secret.  But, I already got the stare down from Sam and my husband knows the amount of pounds gained, so this probably is not going to be a secret for long.  I had prepared myself for a slight gain, but I was so shocked, Lora had to whip out a weight to test the scale.  Can't blame this week's gain on Mardi Gras.  This gain is all about warped thinking and emotional eating.  I always get down to 184 and then back track.  I'm fitting into some clothes that I want to fit in and doesn't that mean I can eat more of this and have another glass of that?  Or I realized, from all this keeping track, that Thursday nights are the most likely night that I would crawfish out of a workout.  Here comes the Lift team to the rescue, thanks to Harold and Mark, I switched my Tuesday training session for a Thursday evening training session beginning this week.  But here goes my warped thinking – Oh, I'm adding a workout next week, it will be OK for me to skip one this week, right? Throw in a little bit of life and won't that Reese's peanut butter egg make me feel better?  Or how about fried pasta with spinach dip?  My husband gives me flowers and I don't want to kiss him because I just ate Funyun's and don't want him to know!  What am I doing?  After my gastric bypass surgery, the lowest I got was 168lbs, and I started gaining weight back.  I have to conquer the emotional eating beast and to untwist my thinking.  I had a total blah week.  How do I not slip into full frompadinka mode?  I took pictures of me in the jeans I can now fit in and a pair of shorts that I want to fit in which I wore once when was at 168lbs.  I set the picture of me in the shorts as the wallpaper on my phone.  That picture had me on track today!  Seriously, you should see the muffin top.  I'm sending Sam both pictures today.  If I don't lose the weight I gained plus some by next Monday, then I want Sam to post the muffin top picture in my next post. Hopefully, you won't see the picture of me in the shorts until I actually fit in them.  Lora tells me I need to go buy me a new pair of shorts.  Alright, I'll do that too.  Anybody else have a tip?  I need enough tips to last me until next Monday.  I want to have one for each day.  Whatcha got?
Thanks!
Rachel
---
So, this workout really should have been posted before my "Fit Moms Workout At Home With The Kids" video but somehow I forgot about this one. Oops! Well, this was my workout I did at home 3 times per week from weeks 8 – 10 weeks postpartum. It was fun and challenging. I felt so good being able to do the suicide planks again. Harold was my commentator in the background, which I chose to leave out, but I'll tell you how his comments went: "Haha…sucks huh!" in response to my "Ouch…Ahhh…OW!"
Yeah, it sucks getting back in shape but what really sucks is getting out of shape. Let me be the first to tell you, the best way to stay fit is to never quit, never slow down. No matter what the circumstances may be, pregnancy is not even an excuse to not workout. In fact, this is one of the more important times to workout. Working out during pregnancy creates a stronger momma for a stronger baby. So, in the words of the ever powerful Nike Co., "Just Do It"!
[youtube]http://www.youtube.com/watch?v=QJEXx0H7lhQ&feature=related[/youtube]
---

Week 6 – Rachel's Journey to weighing 140lbs
Today's weigh in comes in at 187 ¼ for a 5 ¼ lb weight loss for the week. Met this week's goal of losing the Mardi Gras weight and "then some." I wanted the "then some" to be 2 lbs, but I'll take the 1 ¼ lb. Here is how my week went:
Monday
Exercise: 30 minute training session.
Diet: Back to getting used to eating every 3 hours and not eating after dinner. I considered dipping the spoon in the almond butter just for a little taste to get rid of the sweet craving. The little voice inside my head tells me not to and I listen. I just drink tea.
Tuesday
Exercise: 30 minute training session and 3 mile run. Brant made me jump on the big box. Except it wasn't really jumping, it was more like me hurling myself up there like big foot. Maybe next time I can do a little better because I'm not laughing at myself.
Diet: Right on track with the diet. Right on track with only thinking about chocolate. Little voice says "no chocolate."
Wednesday
Exercise: Kickboxing class. I'm thinking this is the first time I have ever gone to the gym on my birthday. Is that what fit people do?
Diet: I brought a big ole key lime pie to work for my birthday cake. I knew I wouldn't even try to eat that and sure enough I didn't touch it. However, I did have two bites of the ice cream cake that my family had for me at home. The voice told me to wait until they had eaten almost all of it and to eat it right before I went to bed so I wouldn't go back for more.
Thursday
Exercise: None
Diet: I had a slight panic attack when we went out to lunch to and I forgot to bring my EZ bread or Wasa crackers. Here goes the voice. What was I going to eat with my salad? Could I really just have salad with veggies and chicken? Turns out you can and I wasn't looking for anything else until my snack.
Friday
Exercise: 30 minute training session, step class, and 3 mile run. Legs were toast after the leg workout with Lora. Then I went to step class and ran. What was I thinking? The voice is saying, should have put my name on the list for the massage.
Diet: Date night with the husband. We went to a restaurant that I had not been to before. I did the best I could picking out what I thought was best. Grilled chicken, black beans, and salad. But, of course, Chardonnay was the third wheel.
Saturday/Sunday
Exercise: 3 miles on Saturday. Break on Sunday because of weigh in on Monday.
Diet: Here comes the birthday weekend. Landed in N'Tini's for lunch. Oh no, there are onion rings on the table. Voice is going, Sam ate onion rings, why can't I have onion rings. Well, because Sam didn't gain 4 lbs last week. Love Sam for eating, and admitting, that she ate onion rings! But, whew, made it without the onion rings, bread, or spinach dip. Got the Sam approved yummy tuna appetizer and a salad. You know I wasn't making it out of N'Tini's without a martini. I had one cosmo. Sunday was birthday dinner at my parent's house. It is really hard to contain the inner fat kid when I'm there especially when there is potato salad , baked macaroni, and cupcakes. I just kept drinking water and I ate grilled redfish and veggies. The voice kept telling me that I should not tackle my sister-in-law for the plate of potato salad that she was eating and I listened. I did eat 2 bites of the cupcakes because my sister had made them.
I think I need to stop talking about "the voice" before my husband sends me to a psychiatrist instead of a trainer. But, I really did have to talk to myself a lot this week to keep me on track. I am proud of myself for not super splurging just because it was birthday week. I think pre-journey I would have just tossed the towel in especially after the previous Mardi Gras week. Thanks to the Lift team for the hard work-outs this week and support to get me back on track. Last week I was hesitant to say that I wanted to lose the 4 lbs I gained plus 2 lbs. Maybe if I would have said it I would have been less likely to let Chardonnay visit for so long or would have eaten smaller portions. Goal for this week is to lose 4 lbs and to do the at home workout that Sam did at least once in addition to my training sessions and classes/running. Sam gave me what I call, "the most feared diet." Guess I'm starting that bad boy tomorrow.
---
Week 3 – Rachel's Journey to weighing 140lbs
Third weigh in of the journey comes in at 188 ½. An almost 1 lb loss isn't what you dream of when you step on the scale, but I'm taking it! As long as the number goes down and not up, I'm good. Almost 8 lbs in 3 weeks is still a pretty good track record for me. I did eat all prepared my meals/snacks like clockwork. In addition to my training sessions and running schedule, I was able to fit in 1 kickboxing class. I did feel really good this week energy wise and my clothes fitting better. I might wait until Wednesday to break out the "want to fit in" jeans and see if I can button them. Here is how my week went:
Monday
Exercise: 30 minute training session with Lora.
Diet: Went to lunch and brought my agave salad dressing that was already measured out into 2 tbsp. In other pre-journey weight loss ventures, I never tried measuring out my salad dressing. I would always just dump and go oh yeah that looks like 2 tbsp. I am just amazed by how far 2 tbsp really goes. Sometime I just use 1 tbsp.
Tuesday
Exercise: 30 minute training session with Brant. I was going to go do a cardio class, but my kids convinced me that it would be a better idea to take them to the park. Maybe one of the Lift trainers can come up with a workout that you could do at the park with your kids! (I'll serve that up just for you Rachel! —Sam)
Diet: I have discovered almond butter. Put it on an apple and it makes you think you are having dessert.
Wednesday
Exercise: Kickboxing class.
Diet: I bought an Amy's pizza because I thought how could I live without eating pizza this week. But, I'm not over the meatballs. I had thrown a spaghetti squash in the microwave and I swear it makes you think you are eating white pasta. Add a side salad and one slice of Ezekiel bread and this meal makes you so happy!
Thursday
Exercise: None
Diet: I got a little carried away with the almond butter and agave. I had all my meals/snacks for the day, but it was 9:30 and I wanted something sweet. Tea wasn't working. Toasted a piece of Ezekiel bread, put a little almond butter, with a drizzle of agave, yum! As if it wasn't bad enough I had one, I went back for a seconds.
Friday
Exercise: 30 minute training session with Lora. Why did I tell Lora that I wanted a hard workout? Lora know I love it though. My legs were like jello. I had to make myself go run 3 miles before my legs realized what happened. This also leads to giving your kids instructions on how they are not to go down the stairs backwards like I'm doing because that is the only way my legs will work.
Diet: The weather was awesome and who doesn't want boiled seafood? Asked Sam if boiled shrimp was allowable and turns out it is for a treat. I was stressing about me retaining water for Monday weigh in, but figured running and additional water would take care of that. And besides, if I gained on Monday, I could blame the boiled shrimp.
Saturday/Sunday
Exercise: 6 miles on Saturday. Break on Sunday because of weigh in on Monday.
Diet: Went to lunch on both days and brought my Ezekiel bread /bun (click to read more about Ezekial) with my own salad dressing. My husband asked "what is the difference between the wheat bun here and the one you bring?" I do not have any clue and my only answer is "this is the bread Sam says to eat." I think it may have something to do with gluten. Bought Skinny Girl margarita's for the parades on Sunday, but I think they become less skinny when your husband adds Patron. And I'm sure whatever good my Ezekiel bun does is counteracted by the beverages.
For week 4, I'm super stressing about Mardi Gras. We will be staying downtown from Thursday to Wednesday. My plan is to bring my food and go light on the beverages. Every friend and family member reading this just fell off their chair laughing. Wouldn't it be amazing to lose weight during Mardi Gras week? I'm hoping to not fail miserably and at least stay the same. We are going to weigh on Weds 3/2 and Weds 3/9 to see what damage I have done or not done.
Thanks!
Rachel
---
Hey there…
So this is a video that I have been attempting to edit and post for you now…Oh for about 7 weeks now! Finally, the baby slept long enough for me to finish it. Now, this is a great workout not only for postpartum women but also for beginners and even prenatal fitness (minus the burpees and mountain climbers).
This workout was designed as a entry workout to get my body acclimated to working out again without having a baby inside my belly. It is a large circuit with basic total body movements that strengthen the largest muscles of the body and increase cardiovascular output. With this postpartum workout that you can do at home at your leisure, you can easily adjust the intensity as you progress. For example, I was only able to do 5 full push-ups of the total 15 push-ups. So, I dropped to my knees and repped out with modified push-ups. Today, at 12 weeks postpartum, my fitness has dramatically increased and I can do the full 15 push-ups without using the modified position. For the other exercises, increase your speed and up the reps. Challenge yourself to see how many reps you can do giving yourself 1 minute per exercise…OUCH!  But, for now, if you are only 4 – 8 weeks postpartum and you have not worked out or done any type of exercise, just start with this basic workout.
The Workout: Basic Total Body Conditioning Circuit
– Complete each exercise for 15 reps by 3 sets
Body Weight Squats
Burpees
Jumping Jacks
Mountain Climbers
Push-ups (drop to modified if necessary)
Stationary Lunges
Chair Dips
Planks (30 seconds hold)
[youtube]http://www.youtube.com/watch?v=qj3oM7B71ZM[/youtube]
---