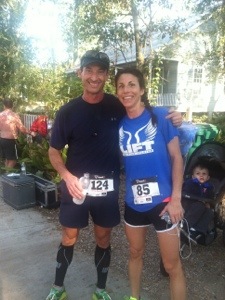 Today was the annual Keeping Up With the Jones 5k! Always a fun race. In the past four years, I've been blessed to see it grow to be quite an event! As for the Jones themselves, they're incredible people. Sweet, genuine, smart, and fun people to be around, Paul and Melissa are a positive team bringing energy to everything they do.
This may be why I'm so fond of this race. After re-connecting with my inner athlete and and the delicate balancing act that is life…I found so much peace in my training I wanted to infect others within my reach to shoot higher.
Its obvious, many of my clients already lift weights regularly. For my coaching clients whom work with me via phone & email on nutrition, they may not be exercising at all yet. There is something missing. No, not just cardio, but the hope to aspire for more. The hope that "your" body and "your" mind can fight the odds. The hope that you can define what "athlete" means to your body and in your life.
Yes, I know, you're thinking,"Ok, Sam, you're not just getting deep here, you're digging deep."
But, it's true. Failure in itself should be defined by the lack of belief in one'es self. So, after my 10 weeks of training myself back to incredible, I decided that I was going to try to convince others to believe.Keeping in mind, many of our clients don't run, have never run or run very little. I knew it would be smart & safe to start with a 5k, or 3.1 miles, in which anyone could walk even at a slow pace.
This was the perfect event for this new challenge. Fun, Friendly, non-intimidating but competitive if you want it to be so.
Since I had been doing more training than Harold and since I had enlisted the advice of Mrs. Rachel Evjn Booth, we decided he would be Mr. Mom and push the girls.
I do believe, Harold has always been Mr. Mom for this race! (Ok, next year honey)
Although Courtney and I and the team busted our booties recruiting and motivating others to join us, I was not actually sure just who was showing up!
Right before the 1 mile started, I saw our group pleasantly pull together! We had a showing of 18 people between team members & clients!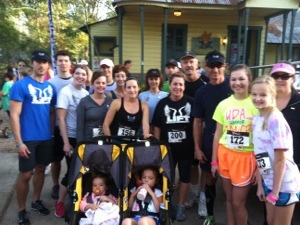 Yay! We're going to change some lives today!" I thought…and erase some fear & doubt.
Sabella ran the 1 mile, as best as a 4 year old could. She did intervals. She would run to the stop sign, STOP, whine a little while walking, Run RUN Run, STOP, piggy back Ride, Run Run Run, STOP, daddy carries and runs with her safely cradled in his arms and then he sets her down so she can make her glorious mad dash to he finish.
As the one mile fun run ended, it was time to pull our team together for the 5k! There was a hint of anxiety and a pinch of panic in the air but mostly just excitement! It was so neat to see many clients show up who had never done a race of any sort or it had been a very long time since. Instead of running away, they all pulled tight into a well knit group. We chose "pace leaders", many of our first timers were walking. Tim, headed up the walkers. Rachel, Tim's girlfriend, and Courtney walked & jogged and then we had our 9-10 min/mile group and then the 9 min/mile or below group. Mostly, this was to offer a sense of  "togetherness" at the beginning, because it's often the beginning that is the scariest part.
Although I was initially planning on being a pace leader and pushing the girls, my coach, Rachel, advised me to use this as a benchmark run for the rest of my training. I was a little nervous about this. The Gulf Coast Half was a great race for me. I figured I could do a 5k faster than a 8:30 pace, but maybe not my PR of 21:50? I had only ran 3 times since the half that was on October 14…in this case, what would be doable?
Blah…who needs "doable" when you got grit! I decided to shoot for slightly slower than my PR. I aimed for a 22:00, but honestly I would've been happy with anything under 25:00 minutes. I clung to T's side yet again. "T, I don't think I have it in me today." He nudged me off as if to suggest I was just being silly, but, I really wasn't sure.
Music on, check! Runmeter app on, check! Go! Tristan was off…faster than a speeding bullet (nothing like a little superman analogy). My Runmeter lady popped in my ear, "6:50 min/mile" and you know what she meant, "SLOW DOWN STUPID". I fell back behind Tristan until I got to a more comfortable pace, 7:30.
As we made our way to the lakefront on this beautiful morning (another reason why I LOVE the Jones 5K, it's always awesome weather), you know how my mind wonders. I recalled the first year I ran the Keeping Up With The Jones 5k and I had actually won overall female! Thinking back now, I would give full credit to this race for solidifying my love for running. I had never won anything for anything athletic other than cheer leading before. The only medals or trophies that decorated my room were State Science Fair medals and a "Most Spirit" trophy. I knew I would not take first this race, but I wondered, would I have a chance of even ranking? As we turned onto the Lakefront, I felt pretty good. I seemed to be in the first wave of runners, even if I was dead last for the fastest it still felt good to be anywhere close to them!
Then, I looked down and thanks to my dad always telling me to "Look down where you walk", my whole life (I grew up in the country. Snakes always ended up under my foot), I managed to not so gracefully leap over a snake! I can't tell you how many times I've been on a run, looked down at a twig and thought it was a snake only for it to be just a twig. But, this time the twig was a snake! It was not alive though. Wonder if it got trampled by those cheetah like runners? Anyway, I thought that this little snake was going to get the last laugh. If only I could have a camera set up to catch images of all the panic stricken runners leaping high into the air. Harold said he got to see a good bit of it.
When I made the loop directly on the lakefront, I was so happy to see Harold and my babies and Melissa Paretti and Jessie Wolz turning the curb too. I was waving and hooting and hollering and then I remembered…"Oh, you're supposed to be racing silly." Rachel clearly told me to "make it hurt" and I'm sure waving is not part of that scenario. Even at this point, running a 7:15-7:30 pace, waving was no longer an option. I started feeling the pain. It's a little funny because, here you go again…Every race has it's own story, here I was pushing myself as hard as I could and I told my clients, "don't push too hard, just come see what it's all about".
I forget what I was thinking most the rest of the race until my insanely poor sense of direction got the best of me once we turned off the lakefront. I gave it another hard push, because I thought I soon would be finished, only to realize that I had another mile left. Where was that voice when I needed it? I guess I tuned her out at the wrong time. I had to dig really deep for this race and when the end was in sight, I found a little extra in the tank to pull out a 22:40! Needless to say, I was pleased. Tristan had done a 21:50! We both took 2nd in our age groups.
I was so happy to be finished but happier to wave and cheer in all of my friends!
In the midst of recovering from my hard push during the race, I realized I unfortunately missed several of our team members coming through the finish : ( There were so many incredible finishers. All of them, regardless of the time it took to cross the finish line, all closed their race with enthusiasm and a sense of accomplishments! What's most impressive is that everyone was impressed with themselves! Even people who thought they would just walk, ended up jogging a little. People who thought, they could barely jog, ran. People who thought they would finish in 27 minutes ended up do it in 25 minutes.
And, Talk about "Super Dads"! There was my hubby with his double jogger, Garrett rocking the Jeep stroller, and Dustin pushing Boston for a stroller PR…I tell ya', it's enough to make a girl go all googly eyed! There were all kinds of super dads out there that day. Of course Tristan, but we also had Todd Reeves and 2 beautiful girls who ran the race with him. Brett did the 3.1 (super fast) and then did another 3.1 to finish a long run. Jeff who also came, ran, made a PR and then ran back to his family!
At the end of the race, the air was filled with a lot of this, " I can't believe I did…" fill in the blank. I think many of us couldn't believe they had a good time. Monday morning the studio was filled with a different level of excitement. It was very intriguing and somewhat familiar feeling. As I talked to Julie, she was just overflowing with pride. The day before the race what I heard from her was a lot of "I don't know…" and then Monday she knew she could and what's more is I think there's no doubt in her mind that there's more to come for her.
All it takes is one little thing, one little event to build your confidence and to show you the possibilities of your body. Erase your doubt. Just because you've never experienced success or lasting transformation doesn't mean it doesn't exist for you.
[youtube]http://www.youtube.com/watch?v=c7GxiRaY0nM[/youtube]
Here's to uncovering your inspiration and your internal motivation!
Hugs & Health,
Sam Prestenbach
Fat Loss Specialist & Certified Health Coach
Congratulations to the whole team: Cecily, Kathy, Beverly, Doug, Julie, Allison & her daughter (plus friend), Courtney, Rachel, Tim, Tristan, Jessie, Tracey, Garrett, Landen, Kennedy, Amy, Jeff, Todd, Sarah, Emma, Melissa, Naz, Brett, Joy and of course Me,Harold and our two princesses!
---
If it's not a friday fun Day at the studio…it's a Friday Fun Day with my princesses! Both days I love! And, both are so fulfilling. Friday Fun Day with my girls are for them. I dedicate a few hours to cleaning and getting a head start on the mess that accumulated from the week, but I get up at the same time I would as if I were going to work so that these chores do not cut into their time too much. From the time both of the girls are up…it's theirs! Usually, this is around 7 a.m.. You would think it's my youngest waking up the earliest. Nope. My oldest is the one that's on my heels within 15-30 minutes of me waking and the little one sleeps in. So, we wait for princess 2 to wake up and then most of the time we get dressed and head straight out to Coffee Rani or Liz's Where Y'at Cafe and sometimes we just stay in and eat breakfast in our 'jammies (pajamas).
What do I eat when we go out? Most of the time just some scrambled eggs I share with the girls and a piece of bacon I steal while they're not looking. Other times, I've already eaten and that time is all about them while I take in all their crazy cute quirky antics and slowly sip a cup of black coffee. Ok, ok, sometimes I chug my coffee because, well, they can get crazy and I'll need my cup of joe to  be able to quickly swoop them up and run out the door before the food starts flying! So far so good. No food fights yet.
Then it's off to the park or the pool. Either way…I'm sneaking in a workout. Here's my rule for getting to the pool or our neighborhood park. It's too close to drive. "Sam, don't you dare get in your car to drive a mile when you can 1) put them in the jogger 2) walk with them on the short cut and let them take in some scenery 3) pull them in the wagon. My jogger and my wagon both offer enough space for water, snacks, towels, and floaties.
I try to make the run last as long as possible or at the tail end. But, at the tail end of our little adventure. They're a little tired, ready to eat lunch, and ready for a nap time book with a side of snuggling. It would be rare that they would want to sit 20-30 mins in the stroller while I try to finish a run. So, best to start off with a little detoured route to the park or pool instead of taking the straight shot. When they start screaming "POOL" or "Park", you should have another 10 minutes before they totally lose it.
On this day, we chose the park! I was able to get in a mile run there and a mile back. Short and sweet like my princesses, but it was just the cherry on top my back yard workout with the babies. I love me some back yard workouts! Now, working out at home may be more difficult than going to the gym regularly. Why? Well, the numerous distractions of course. So, I include my babies and right there I take a common obstacle and make it the best part of my day! Sometimes they like to watch me or interact and other times they could care less that I'm jumping around, being silly and getting dirty.
I really enjoyed this workout today…alot! Here's how it started:
3 rounds of Burpees x 10 reps with DB Squat Press x 10 reps (15lbs)
The girls tired of that and insisted on a "Ride Momma" as Mila says. It dawned on me, yet again, that we could have the best of both worlds! I could finish a workout and they could have some fun with me at the same time! Don't discard my "Wagon Push Workout" so easily. When you watch the video, you'll see me stop, hesitate, grab my quads in all their wholy-moly- burning sensationalism. My legs literally wanted me to stop! So, after a few rounds I did and finished off with the run. Enjoy the workout on me.
P.S. If you enjoyed this workout or the blog share with others, especially busy moms, and show everyone…We can have it all! We can Fit in Fitness!
[youtube]http://www.youtube.com/watch?v=u9CgzAcn7Hg[/youtube]
Hugs & Health,
Sam
Fat Loss Specialist and Certified Health Coach
---
So, I never lost power, but a lot of people on our team did. Lots of my coaching clients were dealing with flooding, evacuation, etc and many of them never went astray from moving closer to their goals each day! There were two roads to choose. For me, it was in my character many years ago to accept the trauma of a situation like this as a "free for all" food fest as the one thing "Not to worry about at this time".  After last week being so refreshing to have had balanced my mommy, wifey,  trainer,  coaching, business owner, and blogger duties with my determination to fit in my training in also more than just 2 times a week…I was not about to be derailed so easily on week 2!
Monday: 2 miles ran as fast as I could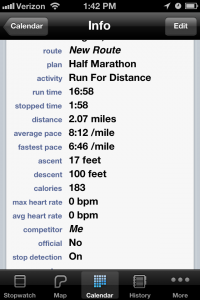 Tuesday, in preparation for the storm and being stuck inside for several days…I worked out and let the girls out for some fun and air while I still could!
Tuesday:
[youtube]http://www.youtube.com/watch?v=fJEppQH_LS8[/youtube]
After this, me and the girls literally ran around the yard and the drive way. I sprinted to the fence and back. The "Back" portion of my sprint meant swooping up Mila as I ran. She loved this and said…"N…Momma…N, N!" Let me translate. "N" means "Again" in Mila talk.
Wednesday:
We were a little frightened as the wind blew the bamboo in our backyard flat to the ground. The candles and hurricane necessities were out the night before. The clothes were washed, food was made,  Dishes were cleaned and the house was spotless. It was only a matter of time before we lost power. We were surprised it didn't go out sooner. The wind the night before sounded as if a train was barreling through our house at any moment.
Breakfast passed and soon lunch we were still sitting comfortably with full power, cable and all. So, we built an indoor fort for the girls, played hide and seek and did a 10 minute workout with the girls in the living room.
With the help of my cute husband as official time keeper I performed these exercises until he called time (10 mins):
Weighted "kid on the shoulder" Squats (she's only 32 lbs)
Walking Lunges (back and forth)
Run to the door and back (the girls really loved this one)
Push-ups (12 reps–Fast reps–so they couldn't jump on my back)
Mountain Climbers (20 reps)
Planks with knee to elbow
And, once it was safe…We played in the RAIN! Of course!
So, maybe some of you didn't get to workout like I did, but I know many of my clients who had to spend time cleaning up debris, ripping up carpet and lots of not so fun Hurricane aftermath. You were active too and you made your lifestyle fit into what was FIT for you at that time. Kudos to the many that also stuck to their programs, stayed active in whatever way they could and didn't use this as a reason to eat food you didn't have to eat. What a great lesson you learned!
Hugs & Health!
---
So, all of you know…I'm a mom. And, I'm not just a mom…I'm a full on, cook all the meals from scratch, do the laundry, wipe the boogers, clean the house…Mom.
The career I've built of this super elite Fat Loss Specialist…well, I love it! Because, whether I work out once a week or 6 times a week…I have the whole nutrition & lifestyle factors nailed down to look and feel pretty good either way. But, at the end of the day I'm like any other mom. The typical mom, let me paint the picture:
We're hard workers and we're people pleasers. Most importantly, we want to please our family. We want to know you love the food we cooked. We'll search out foods, ingredients, recipes like a mad man just to see a smile with that first bite. We wake up early to pack lunches and we stay up late to clean the dishes. We work other jobs many times even though just being "Mom" is more than a full time job. We never take off. We never get a sick day and, what's more, we end up not really caring that we don't get off (except for the occasional mood swing. Yea, I know, those are SO rare!). Our Bonus and incentive on the job…a smile, a hug from our husband's, a sweet kiss from our babies, and " I Love You Momma" and that's all we need to push us further each day.

We're also tired, overwhelmed, and put ourselves last because sometimes its too much of a struggle to get enough sleep much less fit ourselves and our own needs into that equation.There are days when all we hear is complaints and sometimes we need some sort of release.
That's when you could look to food or a glass of wine. But, I've learned to treat myself with exercise and only since having my second child it was extremely difficult to be consistent. How did I lose all of my baby weight? Exercise you would think, but would you be shocked if I told you the most workouts I've averaged since having my second daughter is 2.5. There's been a few weeks I got 4 and a few that I got 3, but most of the time it was only once or twice a week if any at all. But, I did lose the baby weight. I did do three half marathons since, but I didn't really train. About 4 weeks before each, I would squeeze in a few long runs (6-9 miles) and a few runs between 3-4 miles. Was it smart, NO! Did I do well? Not really (I finished at 2:15,  1:57 and 2 hrs) My conditioning before my pregnancy was so good and I had put in the proper time (and then some into my half marathon training and I was able to finish at 1:48) that much of my endurance and strength stayed with me enough to just finish.
So my fitness has been here and there, but there was one thing that was set in stone for me and I only improved more and more each month…It was my nutrition. So, I've been able to look fit and maintain a low body fat percentage by eating really well. If you've seen some of my posts of Facebook, you'll know that I cook delicious stuff too. Not just bland lifeless food. Anyway…I'm ready to get back to my level of FIT! Last year's goal was just to have ALL the baby weight off. Well, I did that rather quickly anyway. So I really need to take my goal setting up to my next level. I'm a little nervous letting you guys in to the specifics, but if there's one thing I've built its a great community of support.
Why not clue you in! By the way, I do want to be leaner and there are areas of my body that make me less confident. For instance, my lower tummy (you know, the mummy tummy) and my legs have always been the toughest areas for me to tone. Now, I'm not perfect nor do I strive to be…I strive for happiness. Eating right, being fit, feeling confident & sexy, being a mom, a wife, a fat loss specialist, and health coach all make me happy! Fitness is not always perfect either. If you're a mom, don't wait for that perfect moment to get into your spandex and to get the sitter or to have the kids fed…Just do it in the comfort of your home if you have to! Like I did and I own a gym! But my gym is my place of work and it's not always ideal for a workout and neither is home, but hey…Something has got to give so it might as well be me!
After all, if I got to my current weight and body fat percentage with mostly just nutrition, I think it will be very interesting what I can do with a little more effort! So, let's see…
Here's how week 1 went:
Monday was a bit funny…but fun! My girls love to workout with me. Why not let them! I just have to make sure I don't stay on the floor too long or they'll crawl all over me!
I pulled out my handy GymBoss Timer and set it for two 30 Second intervals for 10 mins. I hit Start and went right into:
* Jump Squats
* Burpees
* Walking Lunges around my living room
* Push Ups
* Planks
And, I repeated non-stop (well pretty much) until the timer was done!
My girls love it. I aim on doing at least one workout a week at home with them.
Tuesday:
Was a run after I put the girls to sleep.
Wednesday:
My workout at the Studio but you can do this one at home! It's quick and efficient. And, what's better is you customize it to you. Do you have more time? Can do a few extra rounds? Or a few extra reps? Go get it!
[youtube]http://www.youtube.com/watch?v=hGiBpREfkv0[/youtube]
Thursday: OFF
Friday: Run to the pool with the girls. Yep, we pack up the jogger and run a mile there and a mile back. I detour as much as possible but the girls notice pretty quickly. It sounds short, but add an hour or more of chasing them and goofing off at the pool…job is done.
Saturday: Bike ride with the girls. It's slow, because Sabella is only 4 but it's fun and often small bits of activity add up to make a big impact.
Sunday: OFF
It was a good week! I'm ready to see what the next 4 weeks holds for my body! Looking forward to hearing from you more friends!
Hugs & Health…Sam
(this is part of an 7 week process. I began testing a nutrition program on myself and the next blog posts to come document the addition of regular consistent exercise and it's effects on further sculpting my body. Stay tuned for more each week!)
---
Week 1 of our Rip60 Flatter Belly program is well under way! I would like to extend the challenge to everyone! You'll see the video below along with the rules. PLease join in the fun and post your results on the blog or our facebook page!
[youtube]http://www.youtube.com/watch?v=PyfOUTZS7lQ&list=UUJZihtHRaLk18r_dGsdo5Tw&index=1&feature=plcp[/youtube]
Here's the Rules:
1) Complete this workout Tuesday/Thursday and if you do an optional Saturday workout….I'll give you a Gold Star!!
2) Please Push Yourself. I'm making this short and sweet…so do what you can do to make sure you leave it all on the table. After all, it's all about the effort you put in that will help us to achieve maximal results.
3) This is a circuit. This means it consists of 3 or more exercises. You will complete the first exercise, move on to the second, then to the third and so on without any break until you reach the last exercise of the circuit. At that point, you make take a 30 second break (60 seconds if necessary). Take note at how you recover in between circuits as the week progresses. Do you recover faster Saturday then you did Tuesday?
4) Each exercise is 60 seconds. Each time you complete this workout this week I want you to reply to this email with your score (total number of reps for entire workout). So, take good notes of how many reps you complete for each exercise every round.
Back to Basics:
– Chair Squat or lower if capable (be creative..anything can serve as a marker for you squats) Coaching points: Sit back into heel as you lower your body weight. Knees should not be over toes and there should be no pressure on the toes, only the heels.
– Modified Push-Up (chest to floor). Do this even if you can do a full push-up. The progression here is intended to increase your ROM (range of motion). Coaching points: Start with entire body laying on floor, hands next to chest. Contract your abs and tighten entire body as if in plank then exhale and begin to push up from floor extending the arms. Slowly lower all the way back to ground and repeat.
4 Rounds— 60 secs each ( i use the timer on my phone ) —- 30-60 sec break at the end of each circuit/round
Copy my example below and fill it in with your scores then send me back the results. Please do your own math…I hate math…don't make me cry

Ex:
Round 1—score/reps
chair squat – 62
push-up- 55
plank- muscles gave out at 45 sec
Total= 162
Round 2 —-
chair squat – 65
push-up- 53
plank- did the full 60 sec
Total= 178
Round 3—–
push-up- 52
plank- muscles gave out at 50 sec
Total= 168
Round 4—–
push-up- 44
plank- muscles gave out at 50 sec
Total= 154
Total Score= 662
---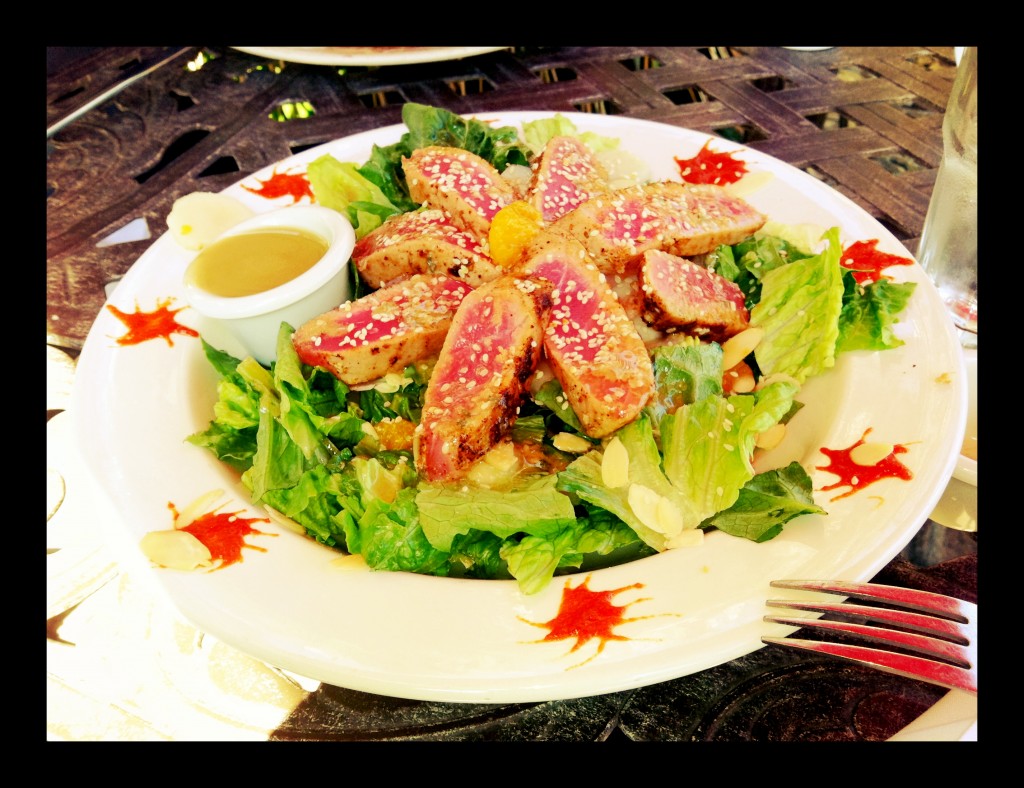 Wow, this weather is simply amazing, yes?! Harold and I found ourselves to be very hungry after work Friday. We walked outside to feel the cool breeze and warm sun and thought it would just be a shame to close ourselves up indoors. So, we decided to stop at the Broken Egg and eat outside. Being so close to the lakefront, it just has such a quaint and airy feel to the scenery that we find so peaceful and relaxing. Now, I am firm believer that you can be fit, healthy and live a healthy life without living under a rock. So, we go out and we eat out. In fact, Rachel, from Project Momma Fit, mentioned in her Momma Fit Chronicles last week that she found it very easy to eat healthy while out and about. She said the options are right there in front of your face and she's right! All you have to do is really want to eat healthy and look for the healthy meals and VOILA…I guarantee you the healthy items will come tumbling off the menu as if they were always there. Oh, wait, they were always there.
Well, if you read my blog post, " Eat, Drink, & Be Merry" you'll probably picking up on the fact that I like seared Ahi tuna. Well, I do really enjoy it, but only when it is super fresh and cooked correctly. I was not disappointed with my salad when it came out. It was beautifully displayed with little mandarin oranges, sliced almonds, sesame seeds, and spots of some kind of chili sauce. Just gorgeous! The wasabi vinaigrette was nummy too (served with two cups of dressing but just use one.)! Overall, I would definitely eat this salad again and again and again. The tuna is such a clean source of protein and substantial at that, it kept me full for several hours. I do recommend you try this one out folks. If you go, make sure you tell them Sam said it was "da Bomb"! Enjoy friends.
Hugs!
Sam
---
So, this workout really should have been posted before my "Fit Moms Workout At Home With The Kids" video but somehow I forgot about this one. Oops! Well, this was my workout I did at home 3 times per week from weeks 8 – 10 weeks postpartum. It was fun and challenging. I felt so good being able to do the suicide planks again. Harold was my commentator in the background, which I chose to leave out, but I'll tell you how his comments went: "Haha…sucks huh!" in response to my "Ouch…Ahhh…OW!"
Yeah, it sucks getting back in shape but what really sucks is getting out of shape. Let me be the first to tell you, the best way to stay fit is to never quit, never slow down. No matter what the circumstances may be, pregnancy is not even an excuse to not workout. In fact, this is one of the more important times to workout. Working out during pregnancy creates a stronger momma for a stronger baby. So, in the words of the ever powerful Nike Co., "Just Do It"!
[youtube]http://www.youtube.com/watch?v=QJEXx0H7lhQ&feature=related[/youtube]
---
[youtube]http://www.youtube.com/watch?v=-kbs8FHsrCg[/youtube]
More and more, being a mom of two children now, I'm realizing life more often than not will get in the way of my fitness regimen if I let it. Key words, "IF I let it". See, anything can get the best of you if you let it like allergies, a dead car battery, a sick child, work, house  work, etc but these are things that are just gonna happen and often might I add. Let's eliminate the excuses. If I can squeeze in an at home workout with a 2 year old and and infant, well, so can you!
---
Hey there…
So this is a video that I have been attempting to edit and post for you now…Oh for about 7 weeks now! Finally, the baby slept long enough for me to finish it. Now, this is a great workout not only for postpartum women but also for beginners and even prenatal fitness (minus the burpees and mountain climbers).
This workout was designed as a entry workout to get my body acclimated to working out again without having a baby inside my belly. It is a large circuit with basic total body movements that strengthen the largest muscles of the body and increase cardiovascular output. With this postpartum workout that you can do at home at your leisure, you can easily adjust the intensity as you progress. For example, I was only able to do 5 full push-ups of the total 15 push-ups. So, I dropped to my knees and repped out with modified push-ups. Today, at 12 weeks postpartum, my fitness has dramatically increased and I can do the full 15 push-ups without using the modified position. For the other exercises, increase your speed and up the reps. Challenge yourself to see how many reps you can do giving yourself 1 minute per exercise…OUCH!  But, for now, if you are only 4 – 8 weeks postpartum and you have not worked out or done any type of exercise, just start with this basic workout.
The Workout: Basic Total Body Conditioning Circuit
– Complete each exercise for 15 reps by 3 sets
Body Weight Squats
Burpees
Jumping Jacks
Mountain Climbers
Push-ups (drop to modified if necessary)
Stationary Lunges
Chair Dips
Planks (30 seconds hold)
[youtube]http://www.youtube.com/watch?v=qj3oM7B71ZM[/youtube]
---
Woohooo!!! The Gulf Coast Half Marathon is this Sunday! My how time flies. 10 weeks ago we started covering half marathon training in our series "Head To Toe: Preparing For Your First Half." Thanks to Varsity Sports in Mandeville and Ryan, we collected a ton of great info over the past weeks that we have made available to everyone via www.MandevilleFatLoss.com, facebook, twitter, and YouTube. I sure hope that all of our running advice and tips has guided you along the way making your training for the half marathon super special. We've covered studying your stride (gait analysis), figuring out your foot type, fitting you with the right shoe, apparel, nutrition, supplementation, hydration, and basic race day tips. You can find all of our videos on our YouTube channel and I will post all of them under the exercise portion of the blog.
With that being said, we are not signing off our half marathon series just yet. No, we still have race day! We will be out there handing out water on mile 6…so look for us. Can't wait to cheer you on!
In this video, we have some tips from some very skilled runners (Ryan, Bud, Tyler, and Turena…all from Varsity Sports Mandeville) and some beginner runners (Myself, Tristan, and Lora) giving you our own race day tips from past experiences good and bad. Learn from us and hopefully we can save you some trouble…
[youtube]http://www.youtube.com/watch?v=aRnL-5MbSEI[/youtube]
1. Pick Up Your Race Packet Early
Pick up your bib, timing chip (if the race is using them) and goody bag the day before the race, if possible. This way, you won't have to worry about rushing to get it on the morning of the race. Also, you're more likely to get your desired race T-shirt size if you pick it up early.
2. Don't Overdress
A good rule of thumb: Dress as if the weather is 15 degrees warmer than it is. That's how much you'll warm up once you start running. If it's cold, you can always wear warmer clothes while you're waiting for the race to start. Many races offer a gear check where you can store your bag with extra clothes for before and after the race.
3. Choose Your Pre-Race Food Wisely
Eat a meal at least one hour prior to the start of the race. Choose something high in carbohydrates and lower in fat, fiber, and protein. Stay away from rich, fatty, or high-fiber foods, as they may cause gastrointestinal distress.
4. Pin Your Bib
Your race bib goes on the front of your shirt, not the back. You can use safety pins on all four corners of the bib to keep it in place.
5. Get There Early
Arrive at the race site early to make sure you get a parking spot. Regardless of whether you're driving there or not, you'll also need time to pick up your number (if you haven't already), check your bag, take a warm-up jog and use the bathroom (the lines may be long).
6. Line Up Properly
Don't line up near the front of the starting line. Faster, more seasoned runners don't like to weave around newbie (and likely slower) runners at the start of the race. Some races have corrals based on estimated pace or post pace signs. If not, ask runners nearby their anticipated pace. If it's faster than yours, move further back. It will be easier to fall into your pace if you're around people that are the same speed as you.
7. Use the Water Stops
Take advantage of the water stations on the course. If you've never done it before, here are some tips o
n how to take water from a hydration stop.
And don't forget to thank the volunteers for handing out water!
Video: How To Run While You Drink Water From Those Tiny Water Station Cups Without Choking!
[youtube]http://www.youtube.com/watch?v=z-wn5IMmy5E[/youtube]
8. Bring Your Support Team
Invite your friends and family members to support you. Ask them to stand near the finish line so they can cheer you on at the end.
---